For the first time in the history of the Eastern NC Bass Challenge, we had a tie for 1st place! Adam Baldwin and Jason Tripp weighed in 21.94 lbs this past Saturday on the Roanoke River. Lee Jones and Joe Giampa also brought 21.94 lbs to the scales but because of the big fish tiebreaker Adam and Jason took the win!
Adam and Jason's bag of bass included multiple fish in the 5 lb class including a big fish of 6.12 lbs. With 82 teams competing in this tournament, they took home $2,500 in winnings Saturday on the Roanoke.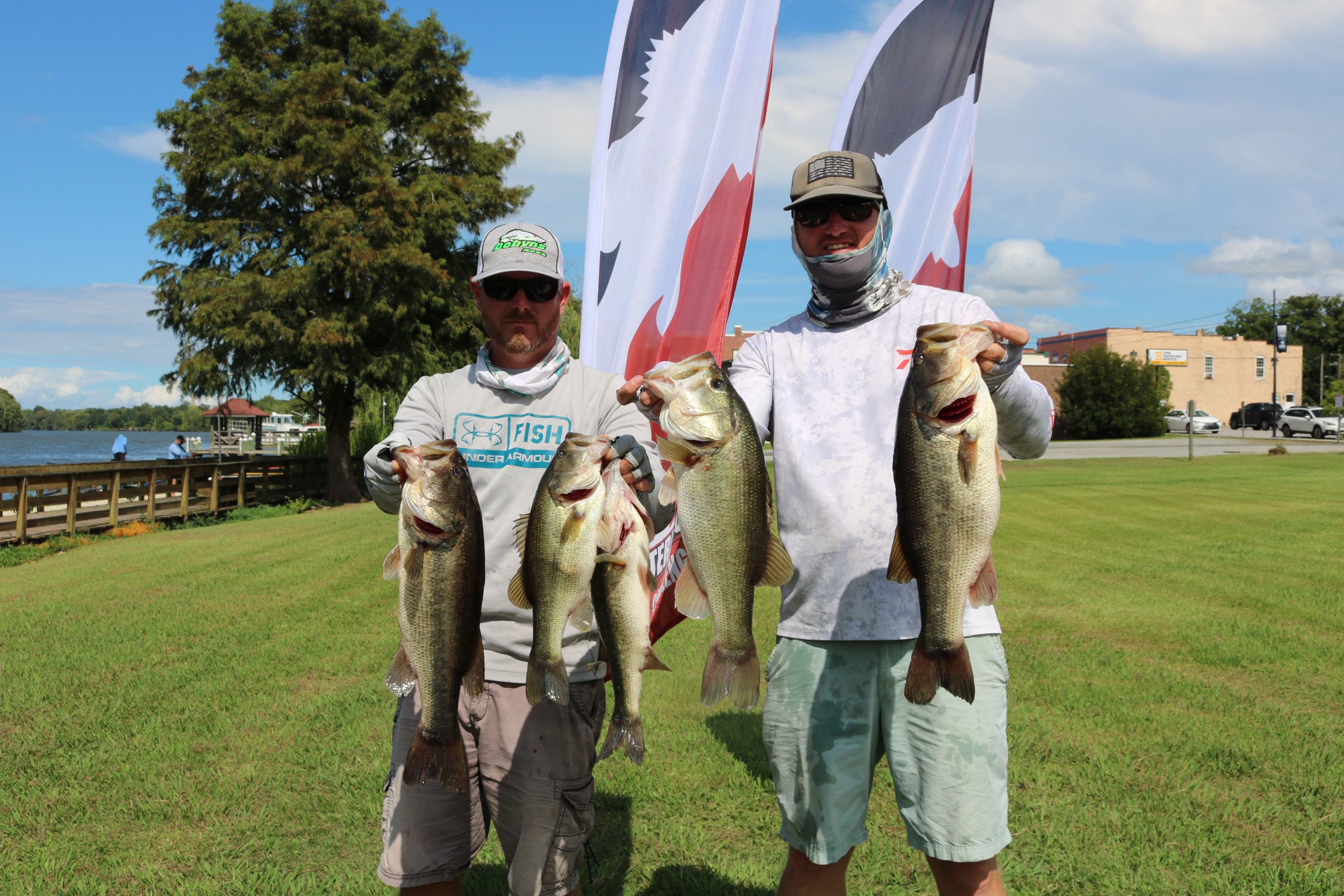 ---
2nd Place – Lee Jones / Joe Giampa
Also bringing 21.94 lbs to the Bass Challenge scale Sunday, Lee and Joe took 2nd place honors on the Roanoke. They're bag included multiple fish in the 5lb range. The teams big fish weighed in at 5.94 lbs. They took home $1,500 in winnings Saturday.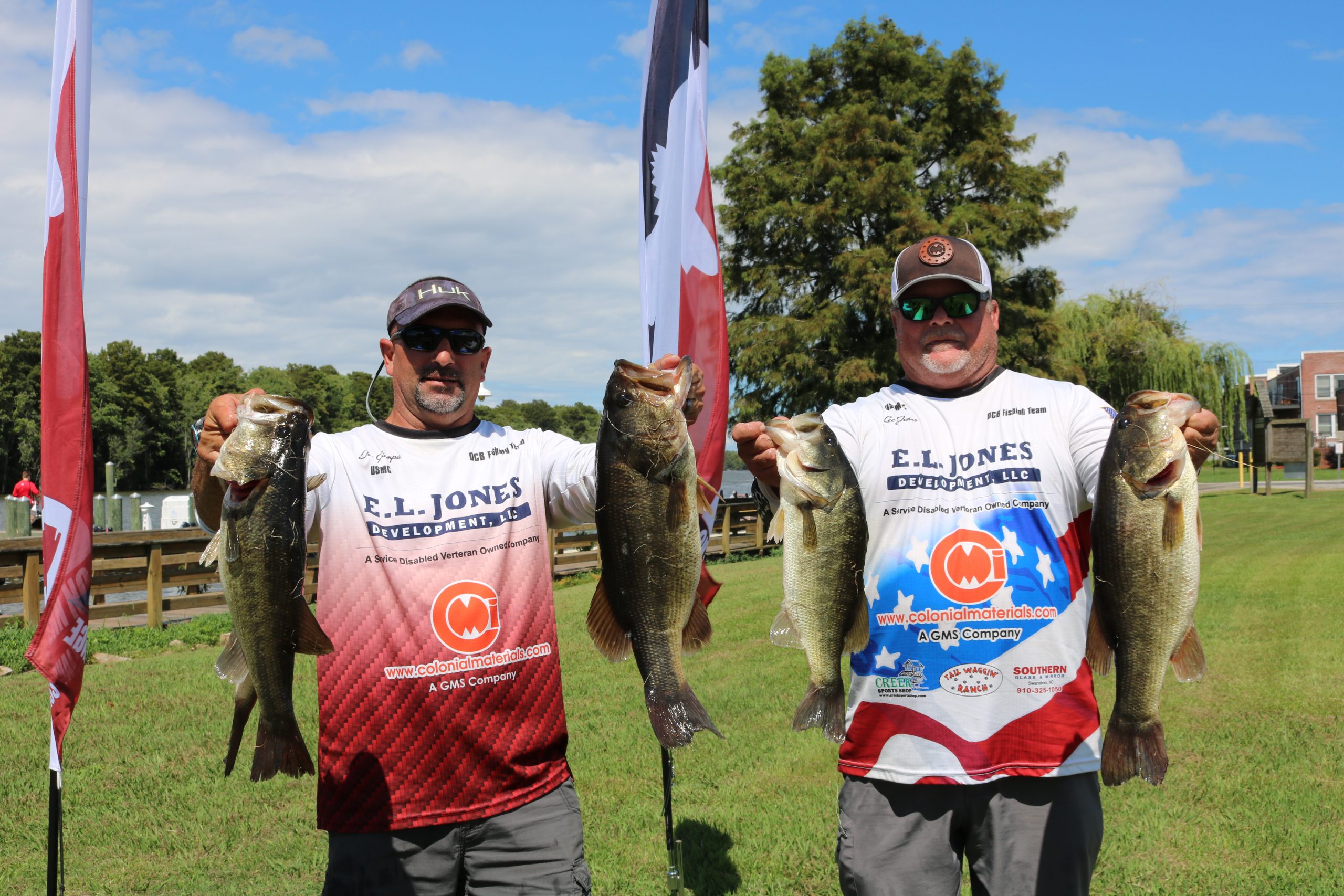 ---
3rd Place – Wayne Harris / Larry Thomas
3rd place was won by local hammers Wayne Harris and Larry Thomas! They weighed in 19.50 lbs Sunday and took home $750 in winnings. Wayne and Larry also secured the Super 6 Points Championship with this 3rd place finish and won another $1,500 in winnings which will be awarded at our end of year Championship in October.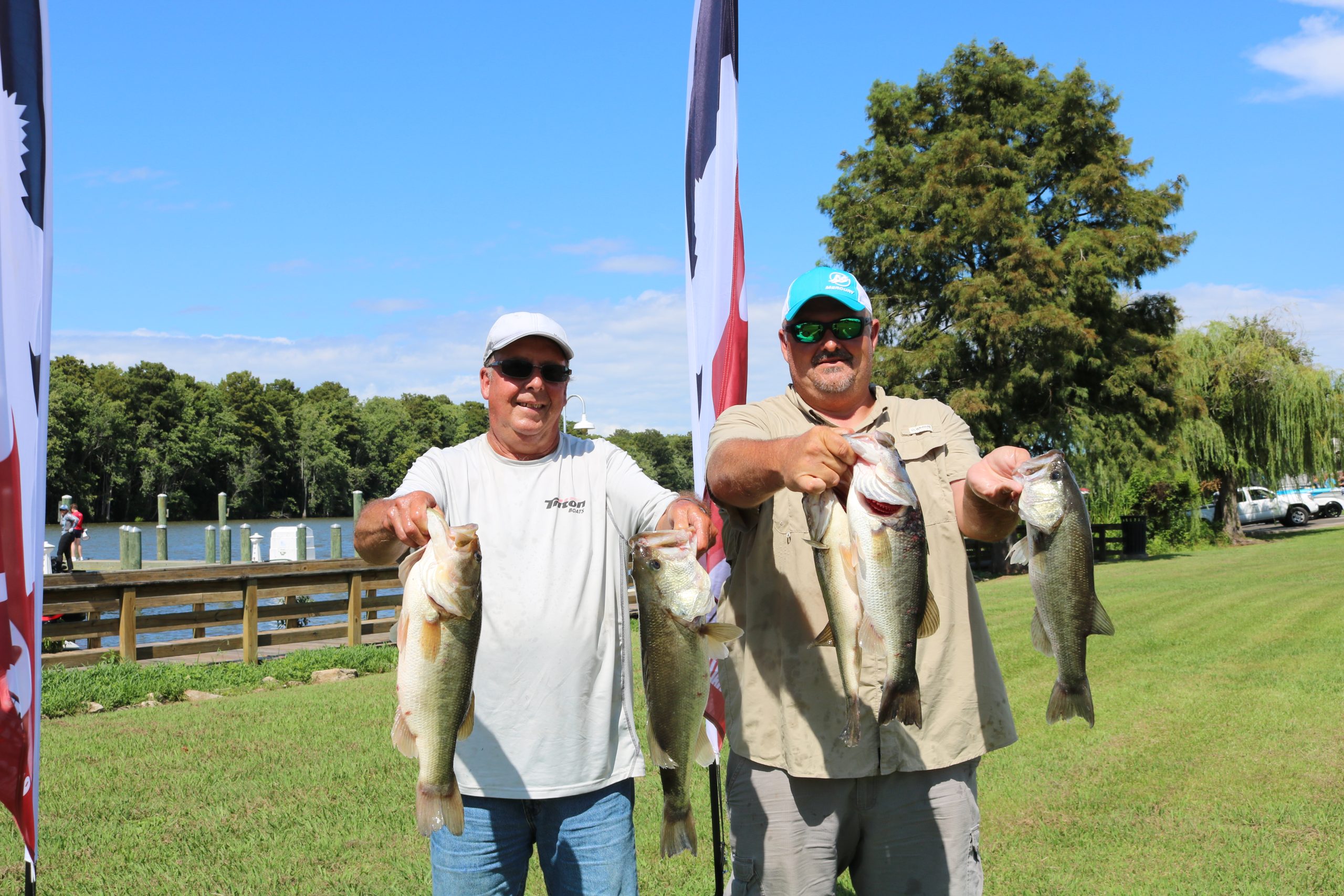 Greenville Toyota Big Fish – JA Williford / Scott Griffin
The biggest fish of the day was weighed in by the team of JA Williford and Scott Griffin. They brought a bass to the scales that weighed 6.72 lbs! For their great catch, they won $400 thanks to our good friends at Greenville Toyota.
NO PICTURE AVAILABLE
---
Full Results
82 teams competed this past Saturday on the Roanoke. This was our biggest turn out of the season and we're grateful to have each of you. We paid cash prizes to the top 14 teams. It took 14.34 lbs to get inside the Bass Challenge money line.
| | | | | | | |
| --- | --- | --- | --- | --- | --- | --- |
| PLACE | TEAM | TOTAL FISH | BIG FISH | DEAD | WEIGHT | FINAL |
| 1 | Lee Jones / Joe Giampa | 5 | 5.94 | 0 | 21.94 | 21.94 |
| 1 | Adam Baldwin / Jason Tripp | 5 | 6.12 | 0 | 21.94 | 21.94 |
| 3 | Wayne Harris / Larry Thomas | 5 | 0 | 0 | 19.50 | 19.50 |
| 4 | Jason Samson / | 5 | 0 | 0 | 18.04 | 18.04 |
| 5 | James Noteboom / Chase Crocker | 5 | 4.5 | 0 | 17.98 | 17.98 |
| 6 | Kevin Jones / Tyler Jones | 5 | 0 | 0 | 17.04 | 17.04 |
| 7 | Tony Coley / Justin Coley | 5 | 4.38 | 0 | 15.68 | 15.68 |
| 8 | Danny Flynn / Brad Elks | 5 | 0 | 1 | 15.72 | 15.47 |
| 9 | Jason Pittman / Braxton Bridgers | 5 | 0 | 0 | 15.30 | 15.30 |
| 10 | Luke Farley / Robb Moore | 5 | 0 | 0 | 15.14 | 15.14 |
| 11 | Craig Goess / Matthew Oakley | 5 | 0 | 0 | 14.92 | 14.92 |
| 11 | Travis Mewborn / Tanner Beaman | 5 | 0 | 0 | 14.92 | 14.92 |
| 13 | Holden Northcott / Austin Huges | 5 | 0 | 0 | 14.46 | 14.46 |
| 14 | Scott Shrewsbury / Brad Duckworth | 5 | 5.9 | 0 | 14.34 | 14.34 |
| 15 | Phil Bissette / Ronnie Bridgers | 5 | 6.1 | 0 | 14.22 | 14.22 |
| 16 | Rip Bass / | 5 | 0 | 0 | 13.94 | 13.94 |
| 17 | Brian Stalls / Clark Harrington | 5 | 0 | 0 | 13.80 | 13.80 |
| 18 | Mike Cathcart / Matt Smith | 5 | 5.82 | 0 | 13.76 | 13.76 |
| 19 | Lee Mitchell / Charlie Allen | 5 | 0 | 0 | 13.12 | 13.12 |
| 20 | Benjamin Dillahunt / John Brookshire | 5 | 0 | 0 | 12.38 | 12.38 |
| 21 | Luke Edwards / Tim Edwards | 5 | 0 | 0 | 12.28 | 12.28 |
| 22 | Jason Theis / Chase Theis | 5 | 0 | 0 | 11.52 | 11.52 |
| 23 | Brandon Johnson / Eugene Foushee | 5 | 0 | 0 | 11.48 | 11.48 |
| 24 | Jody Wynn / | 5 | 0 | 0 | 11.36 | 11.36 |
| 25 | Brad Stain / Paul King | 5 | 0 | 0 | 11.30 | 11.30 |
| 26 | JA Williford / Scott Griffin | 3 | 6.72 | 0 | 10.92 | 10.92 |
| 27 | Brian Williams / Michael Ore | 4 | 0 | 0 | 10.70 | 10.70 |
| 28 | Kevin Ross / Robert Gurganus | 5 | 0 | 0 | 10.66 | 10.66 |
| 29 | Clayton Boyette / Allen Eure | 5 | 0 | 0 | 10.64 | 10.64 |
| 30 | Wayne Hoskins / Chris Mitchell | 5 | 0 | 0 | 10.62 | 10.62 |
| 31 | Brock Rouse / Sammy Barrow | 5 | 0 | 0 | 10.40 | 10.40 |
| 32 | Josh Brown / Kyle Smith | 5 | 0 | 0 | 10.24 | 10.24 |
| 32 | Donna Wilson / Mike Whitehurst | 5 | 0 | 0 | 10.24 | 10.24 |
| 34 | Randy Brown / Jordan Brown | 5 | 0 | 0 | 10.10 | 10.10 |
| 35 | John Jenkins / Matt Mainhart | 5 | 0 | 0 | 9.92 | 9.92 |
| 36 | Joseph Cusimano / Steven McIntosh | 3 | 0 | 1 | 9.92 | 9.67 |
| 37 | Roger Thomas / Dylan Thomas | 4 | 3.8 | 0 | 9.54 | 9.54 |
| 37 | Kolby Jones / Keven Jones | 5 | 0 | 0 | 9.54 | 9.54 |
| 39 | Ryan Harris / Davis Jones | 3 | 6.54 | 0 | 9.46 | 9.46 |
| 40 | Brandon Hendricks / Jon Williams | 3 | 5.78 | 0 | 9.02 | 9.02 |
| 41 | Shane Craft / Thomas Craft | 3 | 4.9 | 0 | 8.38 | 8.38 |
| 42 | John Wind / John Wind | 4 | 0 | 0 | 6.98 | 6.98 |
| 43 | Todd Schell / Scott Grafton | 3 | 0 | 0 | 6.70 | 6.70 |
| 44 | Mike White / Michael Williams | 3 | 4.14 | 0 | 6.54 | 6.54 |
| 45 | Tracey King / David Price | 1 | 5 | 0 | 5.00 | 5.00 |
| 46 | John Feagans / Curtis Johnson | 1 | 0 | 0 | 3.60 | 3.60 |
| 47 | Greg Dick / JP Scott | 1 | 0 | 0 | 2.64 | 2.64 |
| 48 | Justin Hof / Justin Peaden | 0 | 0 | 0 | 0.00 | 0.00 |
| 48 | Ken Kipler / Shawn Dunlap | 0 | 0 | 0 | 0.00 | 0.00 |
| 48 | Joe Daniels / Matt Howell | 0 | 0 | 0 | 0.00 | 0.00 |
| 48 | Zeb West / Jay Haggard | 0 | 0 | 0 | 0.00 | 0.00 |
| 48 | Mike Stephens / Conner Mills | 0 | 0 | 0 | 0.00 | 0.00 |
| 48 | Ryan Killinger / Frankie Jones | 0 | 0 | 0 | 0.00 | 0.00 |
| 48 | Jeff Stoops / Mike Henson | 0 | 0 | 0 | 0.00 | 0.00 |
| 48 | Ricky Foss / George Long | 0 | 0 | 0 | 0.00 | 0.00 |
| 48 | Curtis Owens / Westley Webb | 0 | 0 | 0 | 0.00 | 0.00 |
| 48 | Stacey Light / Mike Askew | 0 | 0 | 0 | 0.00 | 0.00 |
| 48 | Austin king / Ryan king | 0 | 0 | 0 | 0.00 | 0.00 |
| 48 | Samuel Hammond / JD Hammond | 0 | 0 | 0 | 0.00 | 0.00 |
| 48 | Joseph Jernigan / | 0 | 0 | 0 | 0.00 | 0.00 |
| 48 | Wayne Stallings / Justin Everett | 0 | 0 | 0 | 0.00 | 0.00 |
| 48 | Charles Weathersbee | 0 | 0 | 0 | 0.00 | 0.00 |
| 48 | Will James / Mike James | 0 | 0 | 0 | 0.00 | 0.00 |
| 48 | Daniel Wood / Josh Smith | 0 | 0 | 0 | 0.00 | 0.00 |
| 48 | Bubba Barnett / Jeremy Miller | 0 | 0 | 0 | 0.00 | 0.00 |
| 48 | Bobby Lassiter / | 0 | 0 | 0 | 0.00 | 0.00 |
| 48 | Brenden Hodges / | 0 | 0 | 0 | 0.00 | 0.00 |
| 48 | Dean Thompson / Steve Vann | 0 | 0 | 0 | 0.00 | 0.00 |
| 48 | Jeff Price / Cason Price | 0 | 0 | 0 | 0.00 | 0.00 |
| 48 | Dan Leggett / Brian Sessoms | 0 | 0 | 0 | 0.00 | 0.00 |
| 48 | Ronnie Carlson / John Fowler | 0 | 0 | 0 | 0.00 | 0.00 |
| 48 | Ben Perez / JR Ruggiero | 0 | 0 | 0 | 0.00 | 0.00 |
| 48 | Jerry Hardy / Larry Reevels | 0 | 0 | 0 | 0.00 | 0.00 |
| 48 | David Swain / Brad Hauser | 0 | 0 | 0 | 0.00 | 0.00 |
| 48 | Denny Moore / Seth Barnes | 0 | 0 | 0 | 0.00 | 0.00 |
| 48 | Brenden Hodges / | 0 | 0 | 0 | 0.00 | 0.00 |
| 48 | Christopher Avery / Asher Avery | 0 | 0 | 0 | 0.00 | 0.00 |
| 48 | Cameron johnson / Jordan Norris | 0 | 0 | 0 | 0.00 | 0.00 |
| 48 | Antony Brown / Ricky Britt | 0 | 0 | 0 | 0.00 | 0.00 |
| 48 | Walt Goff / Phillip Gibson | 0 | 0 | 0 | 0.00 | 0.00 |
| 48 | Chris Crandal / Jacob Minnich | 0 | 0 | 0 | 0.00 | 0.00 |
| 48 | Monte Morgan / Robin Bowen | 0 | 0 | 0 | 0.00 | 0.00 |
| 48 | Dean Jones / Levi Jones | 0 | 0 | 0 | 0.00 | 0.00 |
---
Tournament Pictures