The Eastern NC Bass Challenge has visited the Neuse River in July for 3 straight years. And for 3 straight years, Tony Coley and Justin Coley have won our bass tournament hosted at Lawsons Creek in New Bern, NC. The father and son team brought 19.94 pounds to the Bass Challenge scales Sunday afternoon beating 62 other teams by a substantial margin.
Their bag of fish had several bass in the 5-pound class and their biggest fish weighed in at 5.18 pounds. Justin and Tony were rewarded $2,000 in winnings for their great day on the water. They were joined by their family at weigh-in as well which is always a great sight to see at our events.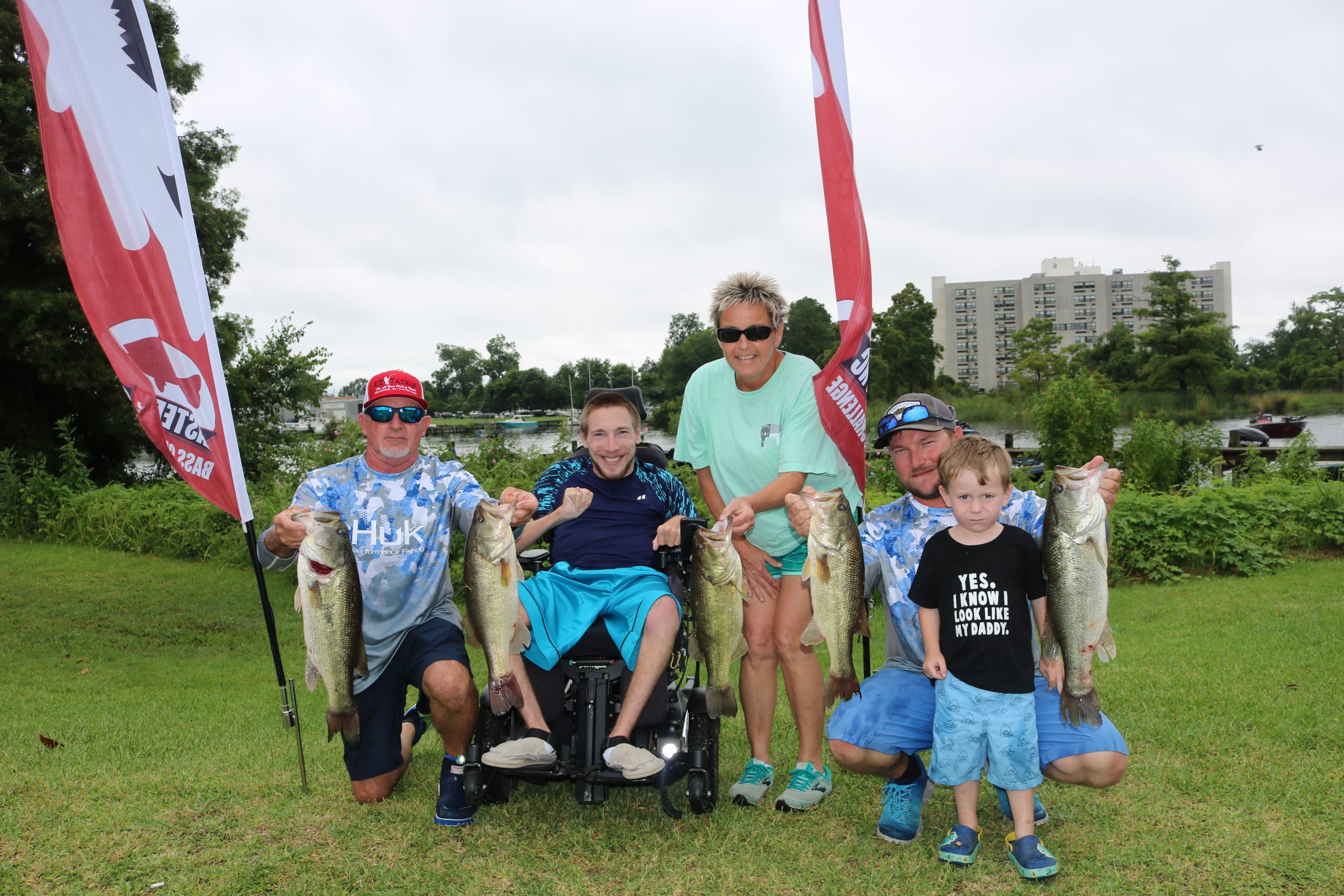 ---
2nd Place – Wayne Harris / Larry Thomas
Wayne Harris and Larry Thomas had a great day fishing with the Bass Challenge. They weighed in 15.40 lbs Sunday afternoon which was good enough for 2nd place. They had multiple fish in the 4-pound range with their biggest weighing in at 4.9 pounds. They have rewarded with a check for $1,200 for their finish. In addition, they maintained the top spot in the 2022 Super 6 Point Standings.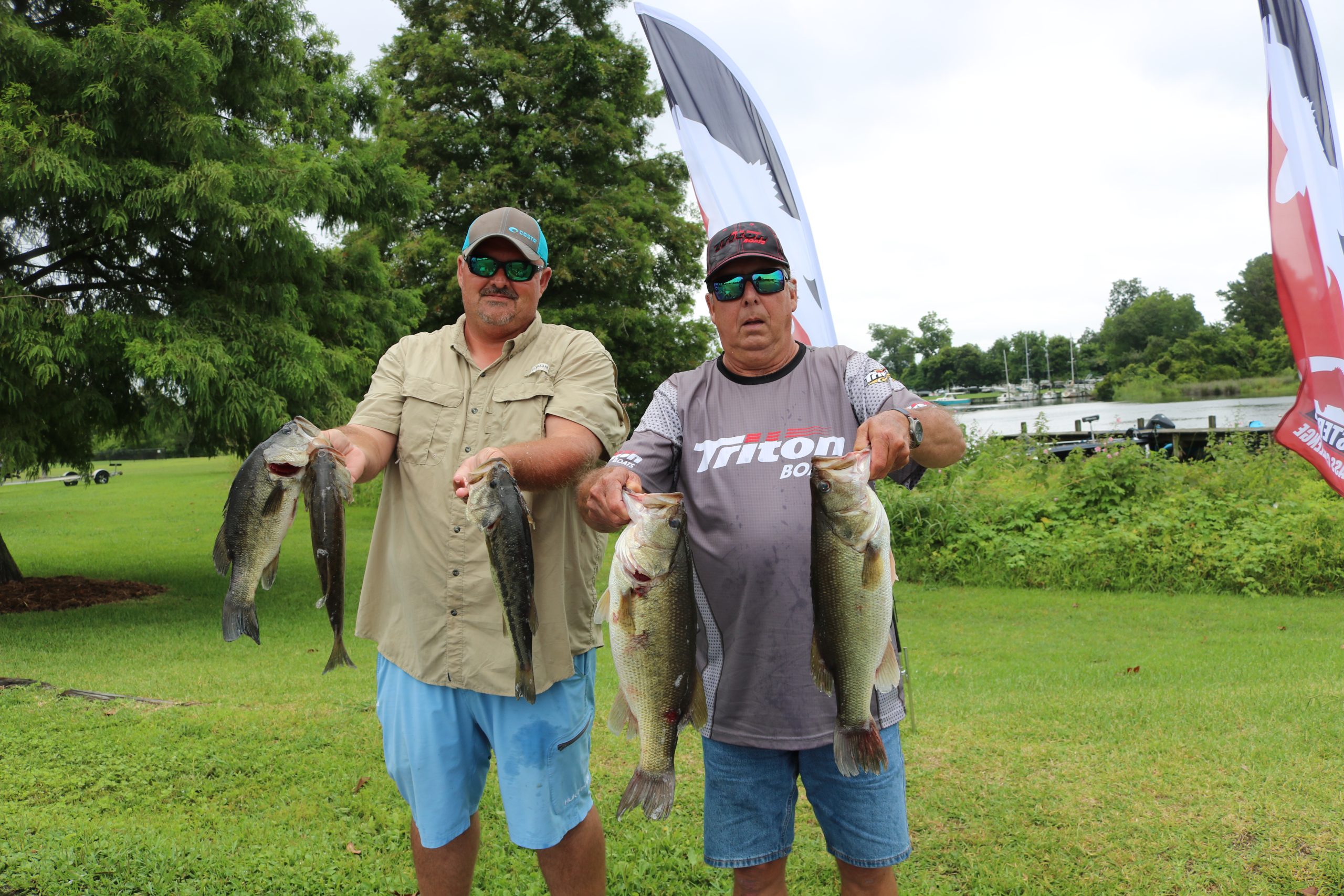 ---
3rd Place – Parker Mills / Brian Bell
Parker and Brian took 3rd place honors Sunday after the team weighed in 15.18 pounds. They had a great bag of bass with multiple 4-pound class fish. They took home $750 in winnings Sunday.
No Picture Available
Greenville Toyota Big Fish – Brandon Hendricks / Jon Williams
The biggest fish of the day was weighed in by the team of Brandon Hendricks and Jon Williams. They brought a 6.16-pound bass to the scales and easily won our $400 Tournament Big Fish prize which is sponsored by Greenville Toyota. The team also took 4th place with a total weight of 15.04 lbs making their total winnings Sunday $850!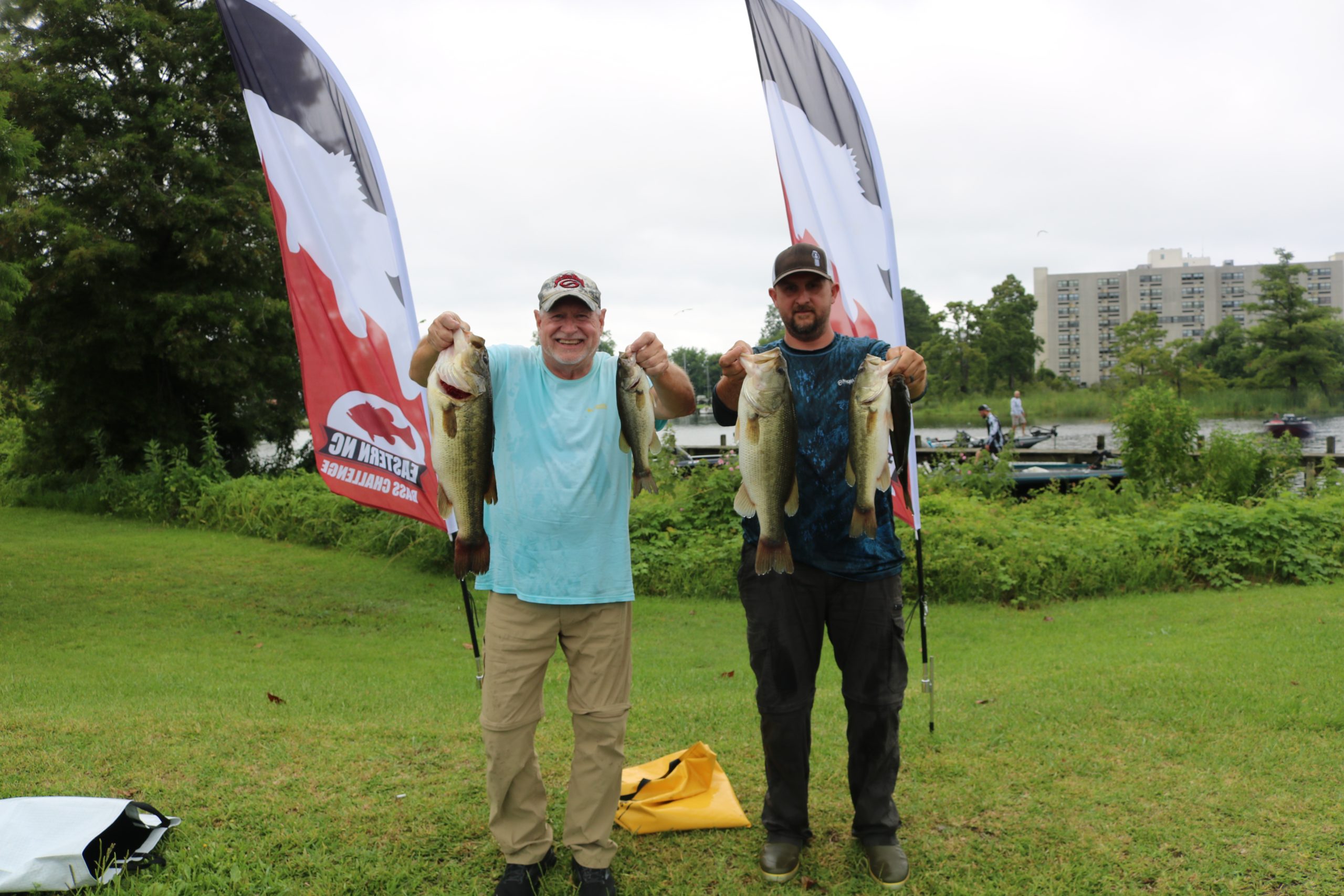 ---
Full Results
With 63 teams competing Sunday, the Bass Challenge paid cash prizes to the top 10 teams (1 for every 6 teams competing). It took 12.34 lbs to get inside the top 10 on the Neuse River Sunday. Full results are below.
| | | | | | | |
| --- | --- | --- | --- | --- | --- | --- |
| PLACE | TEAM | FISH | BIG FISH | DEAD | WEIGHT | FINAL |
| 1 | Tony Coley / Justin Coley | 5 | 5.18 | 0 | 19.94 | 19.94 |
| 2 | Wayne Harris / Larry Thomas | 5 | 4.9 | 0 | 15.40 | 15.40 |
| 3 | Parker Mills / Brian Bell | 5 | 0 | 0 | 15.18 | 15.18 |
| 4 | Brandon Hendricks / Jon Williams | 5 | 6.16 | 0 | 15.04 | 15.04 |
| 5 | Maitland Howard / Shawn Howard | 5 | 5.72 | 0 | 14.98 | 14.98 |
| 6 | Josh Brown / Kyle Smith | 5 | 4.94 | 0 | 14.00 | 14.00 |
| 7 | James Noteboom / Chase Crocker | 5 | 4.78 | 0 | 13.40 | 13.40 |
| 8 | Joseph Cusimano / Steven McIntosh | 5 | 4.56 | 0 | 13.20 | 13.20 |
| 9 | Brad Stain / Paul King | 5 | 0 | 0 | 13.16 | 13.16 |
| 10 | Brock Rouse / Sammy Barrow | 5 | 4.68 | 0 | 12.34 | 12.34 |
| 11 | Roger Thomas / Justin Hof | 5 | 0 | 0 | 11.96 | 11.96 |
| 12 | Jason Theis / Chase Theis | 5 | 0 | 0 | 11.80 | 11.80 |
| 13 | Denny Moore / Seth Barnes | 5 | 3.6 | 0 | 11.66 | 11.66 |
| 14 | Robert Monroe / Billy Mayo | 5 | 4.1 | 0 | 11.12 | 11.12 |
| 15 | Dean Thompson / Steve Vann | 5 | 0 | 0 | 10.90 | 10.90 |
| 16 | Bubba Barnett / Jeremy Miller | 5 | 0 | 1 | 10.90 | 10.65 |
| 17 | Thomas Dew / Brian Haddock | 5 | 4.72 | 0 | 10.42 | 10.42 |
| 18 | Wayne Stallings / Justin Everett | 5 | 0 | 0 | 10.16 | 10.16 |
| 19 | Rip Bass / | 4 | 5.26 | 0 | 9.92 | 9.92 |
| 20 | Clayton Boyette / Allen Eure | 5 | 0 | 0 | 8.86 | 8.86 |
| 21 | Zeb West / Jay Haggard | 5 | 0 | 0 | 8.74 | 8.74 |
| 22 | Jim Dick / Greg Dick | 5 | 0 | 0 | 8.12 | 8.12 |
| 23 | Charlie Allen / Lee Mitchell | 5 | 3.12 | 0 | 7.78 | 7.78 |
| 24 | Craig Goess / Matthew Oakley | 4 | 4.54 | 2 | 8.18 | 7.68 |
| 25 | John Jenkins / Matt Mainhart | 5 | 0 | 0 | 7.52 | 7.52 |
| 26 | Todd Schell / Scott Grafton | 5 | 0 | 0 | 7.50 | 7.50 |
| 27 | Benjamin Dillahunt / John Brookshire | 5 | 0 | 1 | 7.66 | 7.41 |
| 28 | Andrew Pittman / | 5 | 0 | 0 | 7.02 | 7.02 |
| 29 | Ryan Harris / Davis Jones | 5 | 0 | 0 | 6.80 | 6.80 |
| 30 | Ricky Foss / George Long | 4 | 0 | 0 | 6.00 | 6.00 |
| 31 | Jamie Revis / Ryan Revis | 4 | 0 | 0 | 5.92 | 5.92 |
| 32 | Brian Stalls / Clark Harrington | 4 | 0 | 0 | 5.90 | 5.90 |
| 33 | Mike Cathcart / Matt Smith | 4 | 0 | 0 | 5.48 | 5.48 |
| 34 | Kevin Ross / Robert Gurganus | 3 | 0 | 0 | 5.36 | 5.36 |
| 35 | Wayne Hoskins / William Hoskins | 3 | 0 | 0 | 4.04 | 4.04 |
| 36 | Eugene Foushee / Brandon Johnson | 3 | 0 | 1 | 3.80 | 3.55 |
| 37 | Ronnie Carlson / John Fowler | 1 | 2.96 | 0 | 2.96 | 2.96 |
| 38 | Jason Parker / Casey Dayoff | 2 | 0 | 0 | 2.32 | 2.32 |
| 39 | Brenden Hodges / | 2 | 0 | 0 | 2.28 | 2.28 |
| 40 | Lee Jouglard / | 1 | 0 | 0 | 1.32 | 1.32 |
| 41 | Jeff Price / Cason Price | 0 | 0 | 0 | 0.46 | 0.46 |
| 42 | Ron Jones / Bradley Turner | 0 | 0 | 0 | 0.00 | 0.00 |
| 42 | Zach Gulbronson / | 0 | 0 | 0 | 0.00 | 0.00 |
| 42 | Tracey King / David Price | 0 | 0 | 0 | 0.00 | 0.00 |
| 42 | Brecken Bowles / Eli Thigpen | 0 | 0 | 0 | 0.00 | 0.00 |
| 42 | Jody Wynn / | 0 | 0 | 0 | 0.00 | 0.00 |
| 42 | Dan Leggett / Brian Sessoms | 0 | 0 | 0 | 0.00 | 0.00 |
| 42 | Brian Williams / Eric Jacocks | 0 | 0 | 0 | 0.00 | 0.00 |
| 42 | Austin Burgess / John Dunn | 0 | 0 | 0 | 0.00 | 0.00 |
| 42 | Lee Smith / Jakob Smith | 0 | 0 | 0 | 0.00 | 0.00 |
| 42 | Mike Stephens / Lane Stocks | 0 | 0 | 0 | 0.00 | 0.00 |
| 42 | Michael Whitehurst / Donna Wilson | 0 | 0 | 0 | 0.00 | 0.00 |
| 42 | Lee Jones / Joe Giampa | 0 | 0 | 0 | 0.00 | 0.00 |
| 42 | Samuel Hammond / JD Hammond | 0 | 0 | 0 | 0.00 | 0.00 |
| 42 | Luke Edwards / Tim Edwards | 0 | 0 | 0 | 0.00 | 0.00 |
| 42 | Joe Daniels / Matt Howell | 0 | 0 | 0 | 0.00 | 0.00 |
| 42 | John Wind / John Wind | 0 | 0 | 0 | 0.00 | 0.00 |
| 42 | Joseph Jernigan | 0 | 0 | 0 | 0.00 | 0.00 |
| 42 | Bobby Lassiter / | 0 | 0 | 0 | 0.00 | 0.00 |
| 42 | Stancil Bowles / Casey Nichols | 0 | 0 | 0 | 0.00 | 0.00 |
| 42 | Doug White / James White | 0 | 0 | 0 | 0.00 | 0.00 |
| 42 | Austin King / Ryan King | 0 | 0 | 0 | 0.00 | 0.00 |
| 42 | Kevin Jones / Kolby Jones | 0 | 0 | 0 | 0.00 | 0.00 |
---
Tournament Pictures