The Eastern NC Bass Challenge held its 4th annual North Carolina Black Bear Festival Bass Tournament this past Sunday on the Roanoke River in Plymouth, NC. 79 teams competed in this event and the Roanoke River didn't disappoint. 13 teams weighed in a 5 bass limit that weighed 17 pounds or greater.
After the weigh-in was completed, it was Mike May and Dale Winstead who took 1st place honors as they brought 25.70 pounds to the Bass Challenge scales Sunday afternoon. This was the largest bag of bass weighed in with the Bass Challenge this year. Mike and Dale's bag included a big fish of 6.52 lbs and multiple other fish in the 5-pound class.
The team took home $2,500 in winnings for their awesome day on the Roanoke River.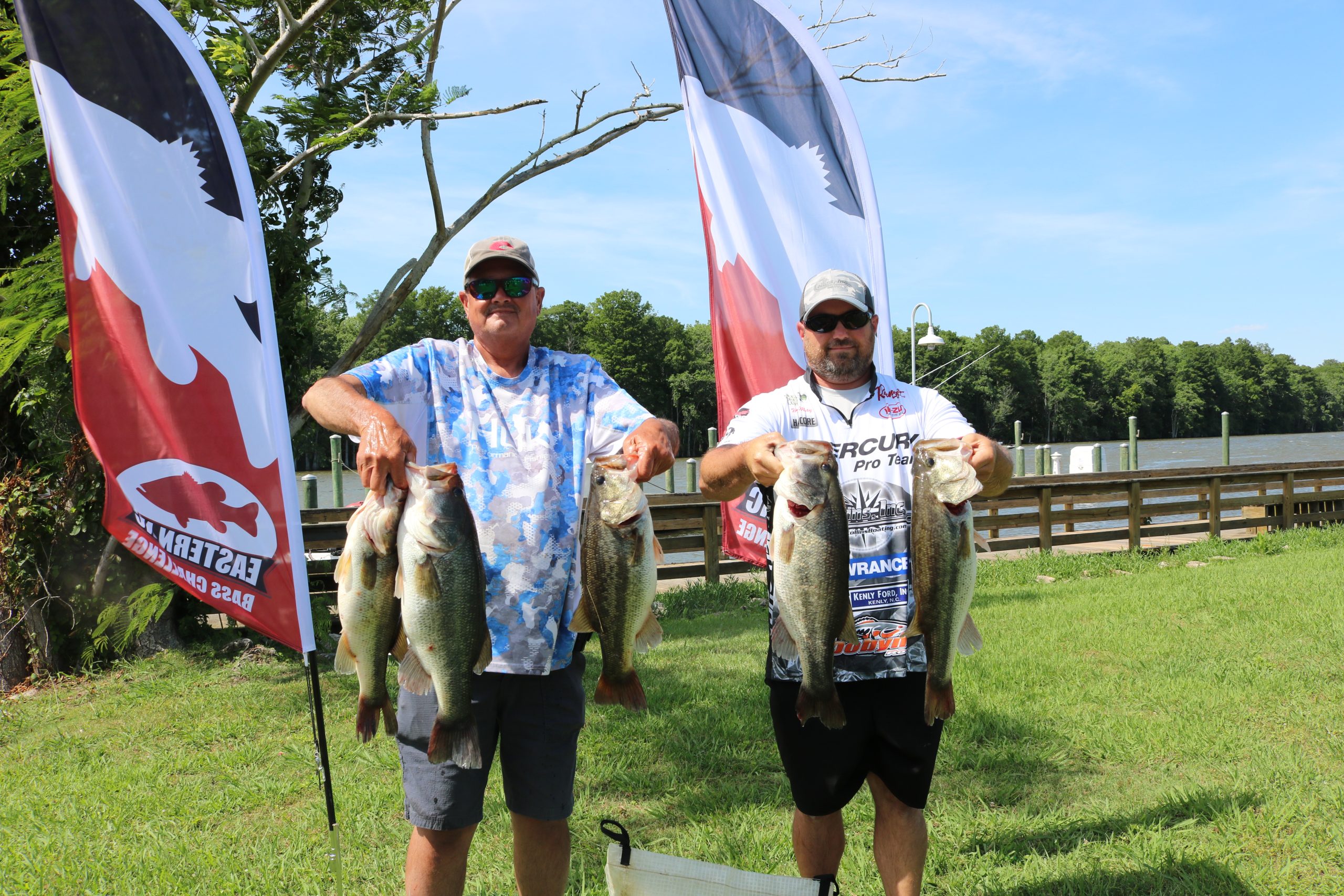 ---
2nd Place – Brock Rouse and Sammy Barrow
2nd place was won by team Brock Rouse and Sammy Barrow. Brock and Sammy had a phenomenal day on the water. They weighed in 23.60 pounds and their bag included a big fish of 6.50 pounds. Brock and Sammy took home $1,450 in winnings after weigh-in Sunday.
---
3rd Place / Big Fish – Chase Theis and Jason Theis
Chase and Jason Theis took 3rd place honors and won our Greenville Toyota Big Fish Prize Sunday afternoon after they brought 21.40 pounds to the scales. Not only was their bag good enough for 3rd place, but they also won our Big Fish Prize by weighing in a 7.34 lb bass! They took home $1,200 in winngins Sunday.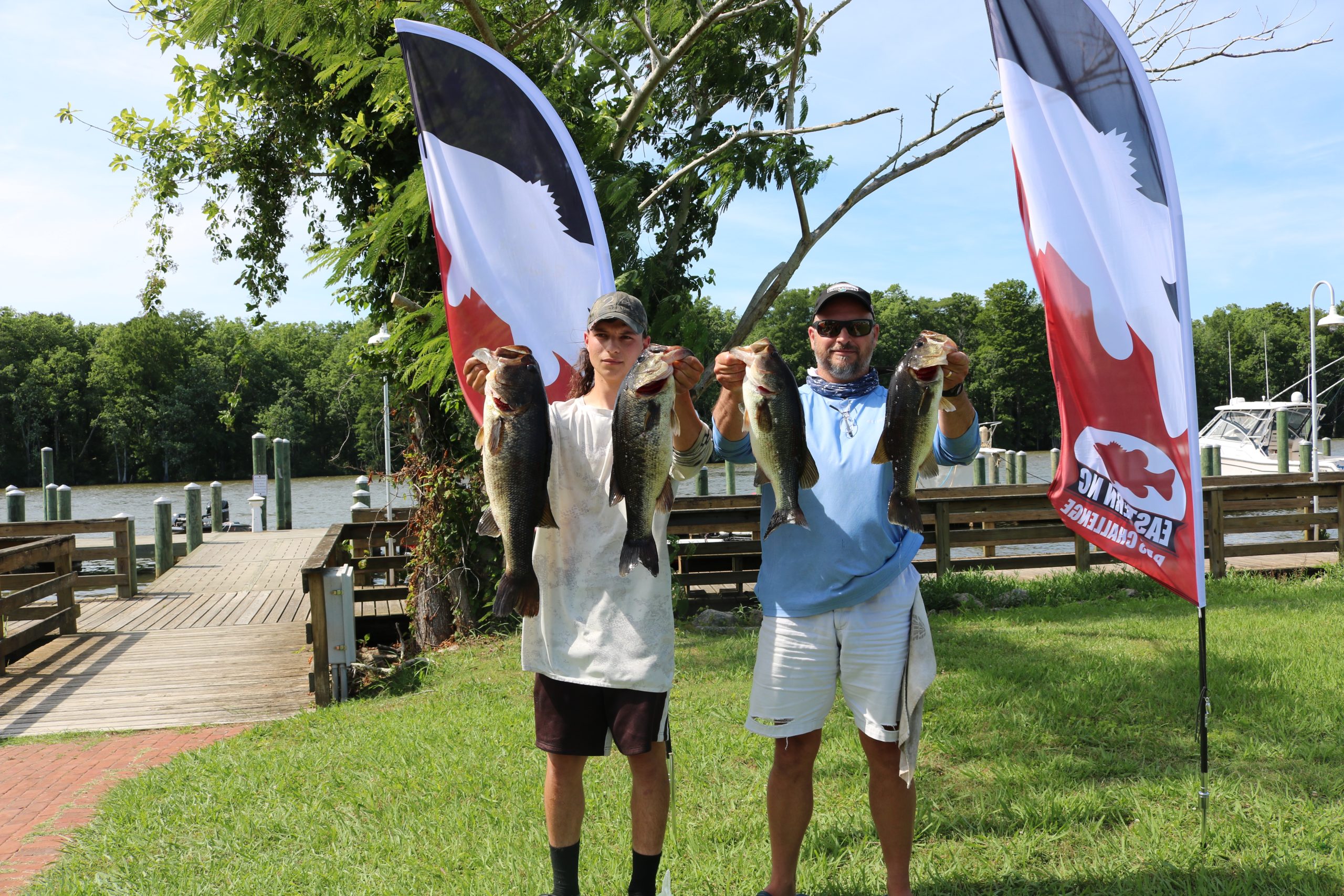 ---
Full Tournament Results
The Bass Challenge paid out cash prizes to our top 13 teams Sunday. It took over 17 pounds to finish inside our money line. We paid out $7,500 in cash winnings this weekend. The Roanoke River didn't disappoint as even anglers who didn't receive cash prizes had a great day on the water. Many fish over 5 pounds were weighed in.
Additionally, our 2022 Super 6 Points Championship is in high gear! The standings have been updated and can be viewed by clicking here. Almost all teams competing in our point championship still have a legitimate shot at landing inside our top 6. With 2 regular season tournaments to go, there's still a lot of fish to be caught to determine what team ends up on top this year.
| | | | | | |
| --- | --- | --- | --- | --- | --- |
| PLACE | TEAM | FISH | BF | FINAL | POINTS |
| 1 | Mike May / Dale Winstead | 5 | 6.52 | 25.70 | 100 |
| 2 | Brock Rouse / Sammy Barrow | 5 | 6.5 | 23.60 | 99 |
| 3 | Chase Theis / Jason Theis | 5 | 7.34 | 21.40 | 98 |
| 4 | Jonathan Yoast / Matt Holt | 5 | 5.96 | 20.84 | 97 |
| 5 | Dean Thompson / Steve Vann | 5 | 5.66 | 20.82 | 96 |
| 6 | Walt Goff / Phillip Gibson | 5 | 6.26 | 19.58 | 95 |
| 7 | Travis Mewborn / Tanner Beaman | 5 | 5.72 | 18.72 | 94 |
| 8 | Shane Craft / Thomas Craft | 5 | 5.28 | 17.98 | 93 |
| 9 | Justin Hof / Justin Peaden | 5 | | 17.96 | 92 |
| 10 | Kevin Jones / Tyler Jones | 5 | 6.16 | 17.76 | 91 |
| 11 | Josh Brown / Kyle Smith | 5 | | 17.60 | 90 |
| 12 | Kevin Ross / Robert Gurganus | 5 | 6.24 | 17.54 | 89 |
| 13 | Wayne Harris / Larry Thomas | 5 | | 17.36 | 88 |
| 14 | Jason Samson / | 5 | 5.76 | 16.88 | 87 |
| 15 | Jody Wynn / Donna Wynn | 5 | 5.3 | 16.42 | 86 |
| 16 | Jeff Stoops / Mike Henson | 5 | 6.62 | 16.24 | 85 |
| 17 | Mike Cathcart / Matt Smith | 5 | 4.9 | 16.16 | 84 |
| 18 | Brandon Hendricks / Jon Williams | 5 | | 16.06 | 83 |
| 19 | JA Willford / Scott Griffin | 5 | | 15.24 | 82 |
| 20 | Craig Goess / Matthew Oakley | 5 | | 15.20 | 81 |
| 21 | Levi Jones / Luke Corbett | 5 | | 15.18 | 80 |
| 22 | Luke Edwards / Tim Edwards | 5 | | 15.08 | 79 |
| 23 | Jason Tripp / Adam Baldwin | 5 | | 14.84 | 78 |
| 24 | Clayton Boyette / Allen Eure | 5 | 5.38 | 14.64 | 77 |
| 25 | Charlie Allen / Lee Mitchell | 5 | | 14.58 | 76 |
| 26 | Daniel Wood / Nathaniel Lucus | 5 | | 14.48 | 75 |
| 27 | Brian Cooper / Heath Parker | 5 | 6.34 | 14.46 | 74 |
| 28 | LaDarrius Chamblee / Derrick Chamblee | 5 | 5.02 | 14.42 | 73 |
| 29 | Matt Harrell / Justin Chappell | 5 | | 14.34 | 72 |
| 30 | James Noteboom / Chase Crocker | 5 | | 14.32 | 71 |
| 31 | Brian Stalls / Clark Harrington | 5 | | 14.14 | 70 |
| 32 | Scott Shrewsbury / Mark Williamson | 5 | 5.2 | 14.10 | 69 |
| 33 | Daniel Boseman / Jordan Hughes | 5 | | 13.95 | 68 |
| 34 | Benjamin Dillahunt / John Brookshire | 4 | 5.24 | 13.94 | 67 |
| 35 | Brian Williams / Eric Jacocks | 5 | | 13.88 | 66 |
| 36 | JT Denton / Wayne Hoskins | 5 | 5.12 | 13.25 | 65 |
| 37 | Brian Haddock / Thomas Dew | 5 | 5.18 | 13.24 | 64 |
| 38 | Ricky Foss / George Long | 5 | | 12.74 | 63 |
| 39 | Todd Schell / Scott Grafton | 5 | 3.66 | 12.54 | 62 |
| 40 | Eddie Fisher / Casey Kearns | 5 | | 12.34 | 61 |
| 41 | Rip Bass / | 5 | | 11.12 | 60 |
| 42 | Eric Roundtree / | 5 | | 10.82 | 59 |
| 43 | Ryan Harris / Davis Jones | 5 | | 10.76 | 58 |
| 44 | Tony Coley / Justin Coley | 5 | | 10.74 | 57 |
| 45 | Ronnie Carlson / John Fowler | 5 | | 10.54 | 56 |
| 46 | Wayne Stallings / Justin Everett | 5 | | 10.52 | 55 |
| 47 | Zeb West / Jay Haggard | 5 | | 10.18 | 54 |
| 48 | Bradly turner / Ron Jones | 4 | | 9.72 | 53 |
| 49 | Joe Daniels / Matt Howell | 4 | | 9.70 | 52 |
| 50 | Brad Stain / Paul King | 5 | | 9.54 | 51 |
| 51 | Austin Hughes / Holden Northcott | 5 | | 9.40 | 50 |
| 52 | Brandon Johnson / Eugene Foushee | 5 | | 9.23 | 49 |
| 53 | Jason Parker / Casey Dayhoff | 3 | | 7.48 | 48 |
| 54 | Lee Jones / Joe Giampa | 3 | | 7.14 | 47 |
| 55 | Lee Jouglard / Doug Tenney | 3 | | 6.50 | 46 |
| 56 | Joseph Cusimano / Steven McIntosh | 3 | | 6.18 | 45 |
| 57 | Roger Thomas / Dylan Thomas | 3 | | 5.76 | 44 |
| 58 | Mike Stephens / Conner Mills | 3 | | 4.89 | 43 |
| 59 | Joseph Jernigan / Ronnie Simmons | 2 | 3.12 | 4.22 | 42 |
| 60 | John E Wind / John A Wind | 1 | | 2.92 | 41 |
| 61 | Brett Mclean / Mack Mclean | 1 | | 2.20 | 40 |
| 62 | Tracey King / David Price | | | 0.00 | 39 |
| 62 | Jeff Price / Cason Price | | | 0.00 | 39 |
| 62 | Samuel Hammond / JD Hammond | | | 0.00 | 39 |
| 62 | Dan Leggett / Brian Sessoms | | | 0.00 | 39 |
| 62 | Marcel Harris / Chris Dowtin | | | 0.00 | 39 |
| 62 | Tim Jacobs /Brandon Parson | | | 0.00 | 39 |
| 62 | Bobby Lassiter / | | | 0.00 | 39 |
| 62 | Jerry Li / Rob Conway | | | 0.00 | 39 |
| 62 | Timothy Brasch / Grant Smith | | | 0.00 | 39 |
| 62 | Phillip Medford / Rick Morris | | | 0.00 | 39 |
| 62 | Mark Walker / Sabrina Walker | | | 0.00 | 39 |
| 62 | John Jenkins / Matt Mainhart | | | 0.00 | 39 |
| 62 | Harvey Earl Johnson / Cameron Johnson | | | 0.00 | 39 |
| 62 | Antony Brown / Ricky Britt | | | 0.00 | 39 |
| 62 | Donna Wilson / Michael Whitehurst | | | 0.00 | 39 |
| 62 | Jason Snell / Cecil Scott | | | 0.00 | 39 |
| 62 | Seth Barnes / Devin burroughs | | | 0.00 | 39 |
| 62 | David Davis / Bobby Davis | | | 0.00 | 39 |
---
Tournament Pictures