Our last tournament of the 2023 season will take place this weekend on the Roanoke River. This will be our 2-day Championship and this event will feature a 1st place prize of $4,000 as well as other increased payouts. We will be capping our payouts for this event to our top 10 teams (max). This way we can increase the payouts for those top 10 teams and reward our anglers as much as possible without increasing our entry fees. In addition to our $4,000 1st place prize, we'll also be offering additional ways to win including a $1,000 Kolby Jones Big Bass Prize and a Day 2 Kolby Jones Big Bag payout of $1,000!
Please note: Anglers must be eligible for this event. You must have competed in 3 tournaments in 2023 to be eligible to fish this event. If you're unsure about your eligibility please contact us.
Anglers can obtain all information needed for this event in these pre-tournament notes.
---
Tournament Information
Location: Roanoke River
City: Plymouth, NC
Launch Ramp: Water Street Landing (Beside Lighthouse) – Google Maps Link
Fish Limit: 5 fish, all fish must be 14 inches or greater
Off Limits
There are no off-limits for this event. Feel free to practice as much as you'd like.
Tournament Times
Our crew will be on-site at 4:45 am to handle onsite angler check-in for the event. All anglers must check in with our staff and receive a boat number slip before our tournament begins. We will also check your live well before you launch your vessel. Blast off will begin at safe light. We always blast our anglers off as early as possible to maximize fishing time. We anticipate blasting off for this event at approximately 6:15 am.
Onsite Angler Check-in: 4:45 am
Blast Off: Safe Light – Approximately 6:00 am
Check-In: Weigh-in begins at 3:00 pm but you may weigh in as early as 1:30 pm if you'd like.
Truck/Trailer Parking
There is ample parking at this location. Please use the grassy area across the street from the ramp for parking. Overflow parking is available down the street beside the Police Station. See the map below.
Other Ramps
You may use other surrounding ramps. However, you are still required to check in with us and have your livewell checked and obtain your boat number slip.
Launching and Blast off Information
PLEASE READ – When you launch your boat into the water, please clear the ramp so others may have ample space to launch as well. We will call boat numbers from the launch ramp. After your number is called, you may idle away from the field before getting on plane. Finally, be courteous at the boat ramp, dim your lights when launching your boat, and be safe. Please see the below map.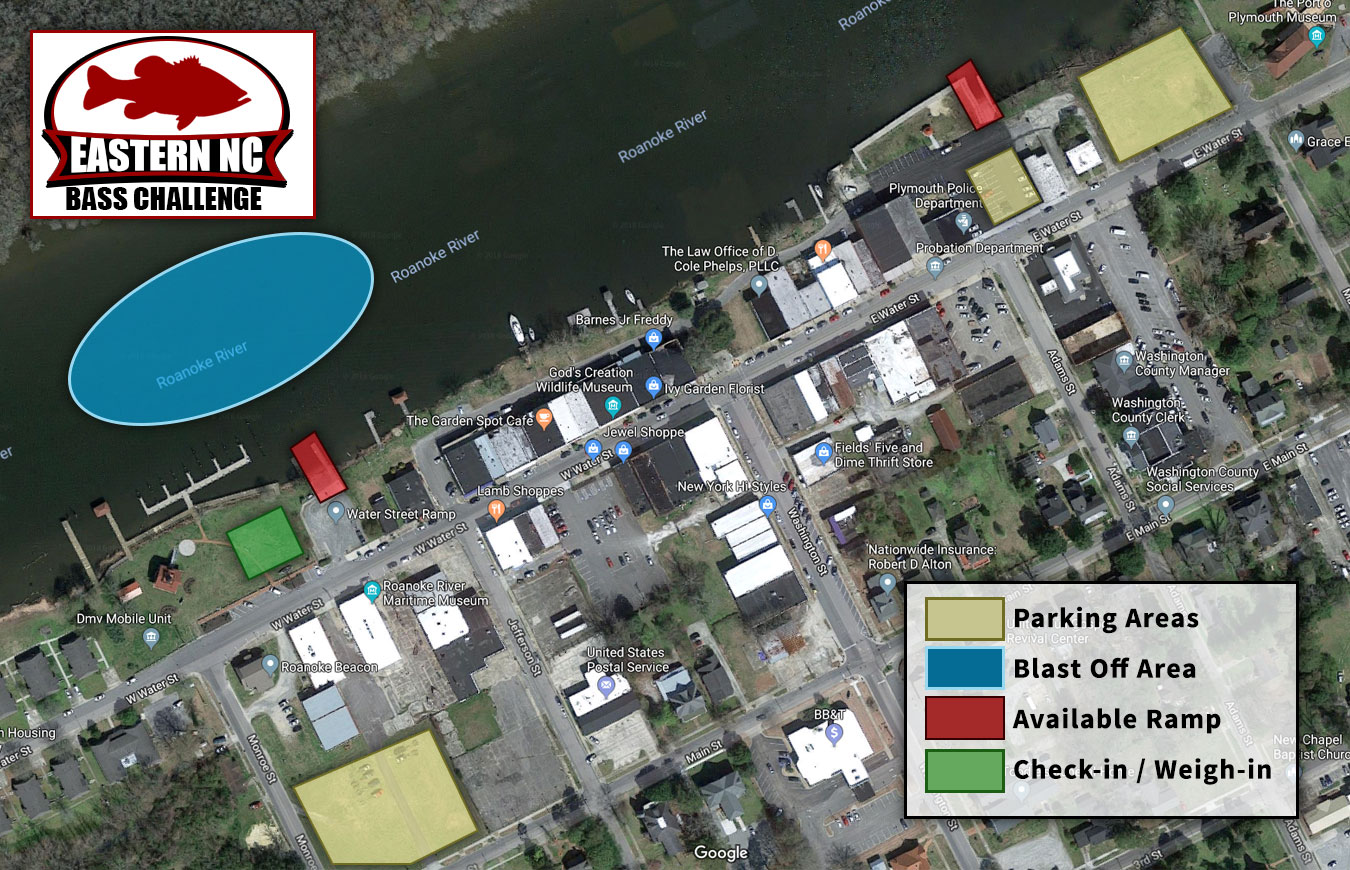 Boat Numbers and Flights
During registration, teams are assigned boat numbers. We blast off boats in order based on these numbers. Every 25 boats will begin a new flight. The first flight is due back in at 3:00 and every proceeding flight after that is due back in 10 minutes later. Boat numbers are visible on the homepage of this website.
Fees and Costs
All fees and costs for this event may be paid online or in person the morning of the tournament.
Entry Fee: $105 – Purchase Online
Payouts, Incentives, & Contingency Prizes
With a minimum of 60 boats competing in this tournament, we are guaranteeing $4,000 to our 1st-place winners. Payouts for this event are based on participation and will be announced before the blastoff. We will be paying out 1 place for every 6 teams competing in this event.
1st Place Prize: $4,000 + 2 commemorative trophies
Kolby Jones Big Bass Award: $1,000
Day 2 Kolby Jones Big Bag: $1,000 – The team that weighs in the biggest bag on day 2 will receive $1,000!
About Kolby Jones
Kolby Jones was a young and dedicated bass angler who participated with the Eastern NC Bass Challenge and other local bass tournament trails on a regular basis. He was unexpectedly taken from us after a car accident 1 year ago. We want to continue to honor and remember Kolby and having 2 tournament prizes in his name is our way of remembering Kolby as a great angler, friend, and a son.
The funds for the Kolby Jones prizes have been donated by the Kolby Jones Scholarship Foundation.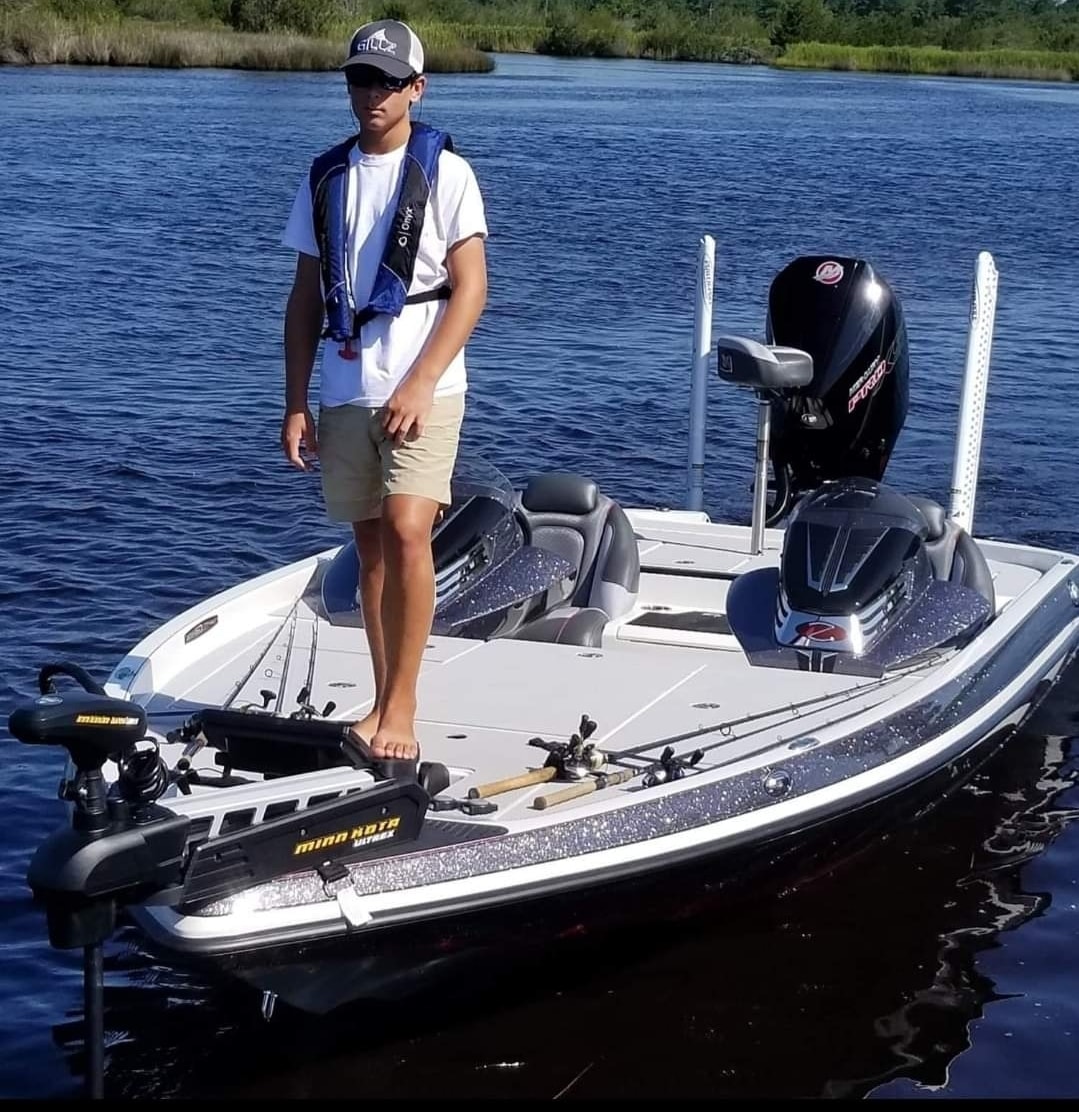 Payouts: Payouts will be capped at our top 10 teams (max). Official payouts and places will be announced before blast off.
We're so happy to offer our anglers several incentives and contingency prizes this year. Our events in 2023 will be officially sanctioned events for the following contingencies:
Ranger Cup, Triton Gold, Nitro Tournament Rewards
Polygraphs
All anglers competing in an Eastern NC Bass Challenge Tournament are subject to a Polygraph.
Live Leaderboard & Live Streaming
During the weigh-in, anglers will be able to view their results and current standings on our Live Leaderboard. We will also be live-streaming the weigh-in on our Instagram account so family and friends can watch online. Make sure you're following us on our official Instagram and Facebook accounts. Please note –  our live streaming will be contingent on our wireless signal
---
Thank you all for fishing with the Eastern NC Bass Challenge. We're looking forward to a great tournament. If you have additional questions or need assistance with anything tournament-related please contact Jeffrey Davis at 252.661.5454.