Steve Vann and Skippy Lewis won 1st Place and took home $2000 in winnings this past weekend in our 1st Annual NC Bear Festival Bass Tournament. The Eastern NC Bass Challenge traveled to Plymouth, NC this past weekend where 71 teams competed on the Roanoke River.
With our largest field ever, our anglers didn't fail to impress onlookers at the North Carolina Bear Fest as several great bags of fish were weighed in. In fact, it took 16+ lbs to finish inside of the money line in this months event on the Roanoke River.
---
Steve Vann and Skippy Lewis Win $2000 1st Place Prize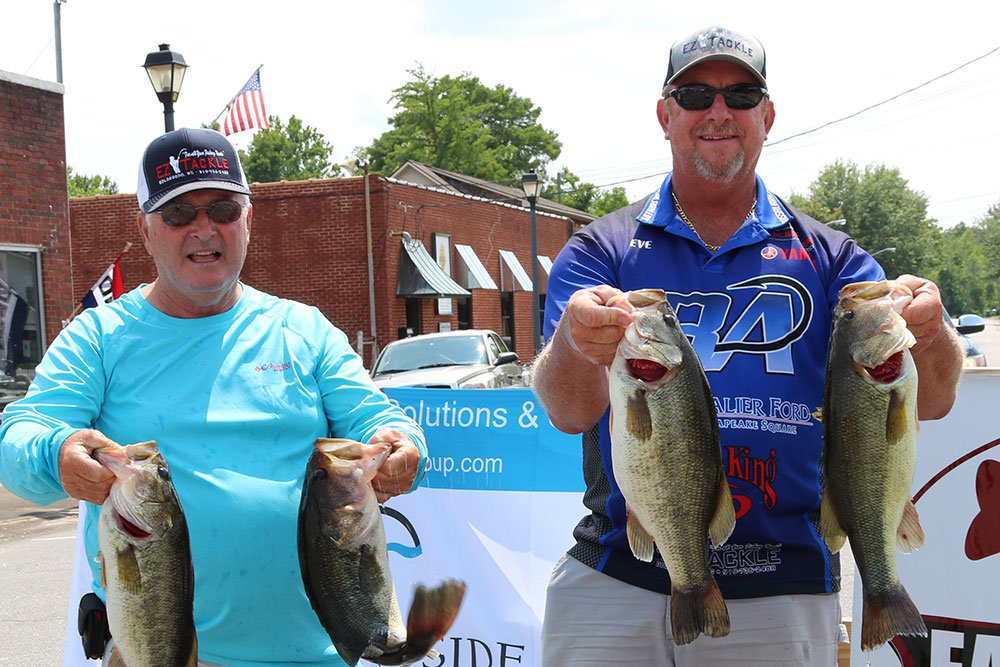 Steve Vann and Skippy Lewis won 1st Place with a great bag of fish that tipped the scales to 19.06 lbs on Sunday. Their bag was anchored by several big fish in the 4 lb range. The team won $2000 in cash winnings thanks to our friends at The Soundside Group who partnered with the Eastern NC Bass Challenge for this tournament.
This win for Steve and Skippy is their second of the season after last months win on the Neuse River. In fact, Steve and Skippy have finished 1st or 2nd in the last 3 combined tournaments. With their surge of great finishes the boys have moved into 2nd place in our 2019 Team Points Championship.
---
 Cooper and Parker Take 2nd Place and Greenville Toyota Big Fish Prize
2nd place was won by the team of Brian Cooper and Heath Parker who weighed in a great bag of bass that weighed 17.63 lbs. Their 2nd place was secured primarily by their big fish which won our Greenville Toyota $350 Big Fish Prize. The teams big fish weighed in at 6.35 lbs! With their great day on the water the team took home $1300 in total prize money!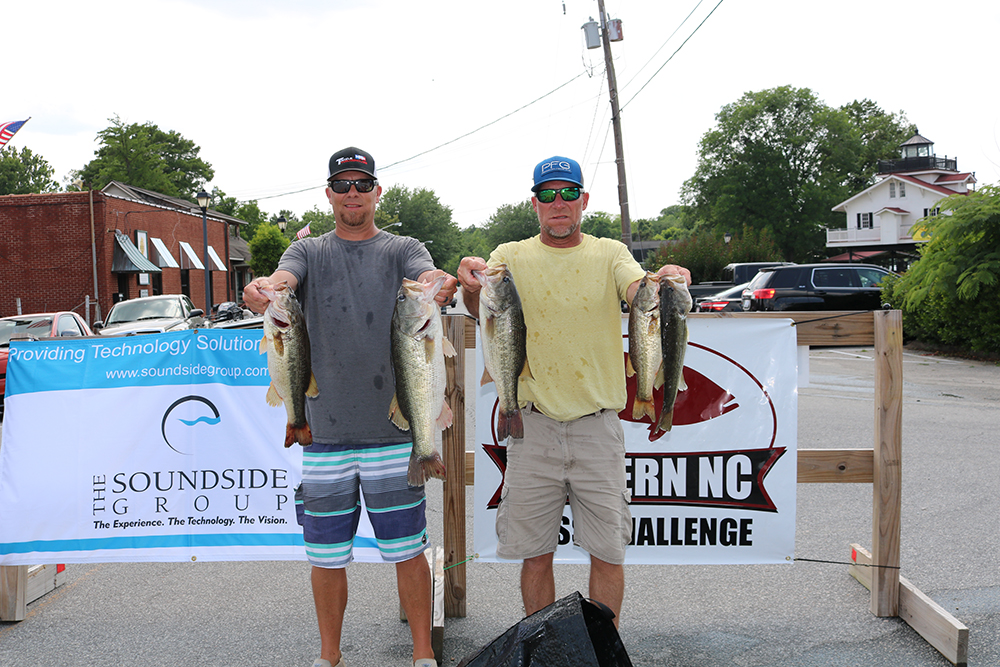 ---
The Rest of the Field
Weighing in another 17 lb bag of fish, Jerry Murray and Keith Jennings took 3rd place with 17.06 lbs. They had a great bag of fish anchored by several fish 3lbs and bigger! They took home $400 in winnings for their day on the water. Finishing in 4th place was Dale Winstead and Rick Morris who weighed in 16.32 lbs. 5th place went to the team of JA Williford and Jason Tripp who weighed in 16.18 lbs. 6th place was taken by Brian Stalls and Clark Harrington with 16.10 lbs. 7th place was won by Michael Cathcart and Matthew Smith with 16.08 lbs. And with our final money spot, 8th place was taken by Jim Hipkiss and Dennis Boykin with 16.07 lbs.
---
Full Tournament Results
Mobile devices may scroll left and right
| | | | | | | | |
| --- | --- | --- | --- | --- | --- | --- | --- |
| PLACE | TEAM | FISH | BF | DEAD | WEIGHT | FINAL | PTS |
| 1 | Steve Vann  / Skippy Lewis | 5 | 4.69 | | 19.06 | 19.06 | 100 |
| 2 | Brian Cooper  / Heath Parker | 5 | 6.35 | | 17.63 | 17.63 | 99 |
| 3 | Jerry Murray  / Keith Jennings | 5 | 4.87 | | 17.06 | 17.06 | 98 |
| 4 | Dale Winstead / Rick Morris | 5 | 4.36 | | 16.32 | 16.32 | 97 |
| 5 | JA Williford / Jason Tripp | 5 | 0 | | 16.18 | 16.18 | 96 |
| 6 | Brian Stalls  / Clark Harrington | 5 | 0 | | 16.10 | 16.10 | 95 |
| 7 | Michael Cathcart  / Mathew Smith | 5 | 4.99 | | 16.08 | 16.08 | 94 |
| 8 | Jim Hipkiss / Dennis Boykin | 5 | 5.73 | | 16.07 | 16.07 | 93 |
| 9 | Cecil Scott  / Eric Murphy | 5 | 5.06 | | 15.53 | 15.53 | 92 |
| 10 | Michael Morris  / Scott Shaw | 5 | 5.97 | | 14.05 | 14.05 | 91 |
| 11 | Phillip Gibson  / Walt Goff | 5 | 0 | | 13.60 | 13.60 | 90 |
| 12 | Brett McLean / Mack McLean | 5 | 0 | | 13.54 | 13.54 | 89 |
| 13 | Tom Warner / | 5 | 0 | | 13.49 | 13.49 | 88 |
| 14 | Brandon Hendricks  / Jon Williams | 5 | 0 | | 13.42 | 13.42 | 87 |
| 15 | Jeremy Miller / | 5 | 0 | | 13.39 | 13.39 | 86 |
| 16 | Charlie Gray / | 5 | 5.03 | | 13.19 | 13.19 | 85 |
| 17 | Ted Park  / Justin Coley | 5 | 3.2 | | 13.18 | 13.18 | 84 |
| 18 | Cody Howard  / Sheldon McKinney | 5 | 0 | | 13.00 | 13.00 | 83 |
| 19 | Larry Thomas  / Gerald Elks | 5 | 0 | | 12.92 | 12.92 | 82 |
| 20 | Jordan Brown / Josh Brown | 5 | 4.28 | | 12.71 | 12.71 | 81 |
| 21 | John Kellett  / Adam Baldwin | 5 | 0 | | 12.45 | 12.45 | 80 |
| 22 | Shane Craft / Matt Harrell | 5 | 0 | | 11.91 | 11.91 | 79 |
| 23 | Charles Anderson / Robert Conway | 5 | 0 | | 11.65 | 11.65 | 78 |
| 24 | Kevin Ross  / Clayton Boyette | 5 | 0 | | 11.16 | 11.16 | 77 |
| 25 | Trey Nanny  / Cliff Jenkins | 5 | 0 | | 10.97 | 10.97 | 76 |
| 26 | Kent Manning  / Chris Manning | 4 | 0 | | 10.94 | 10.94 | 75 |
| 27 | Dean Thompson  / Lee House | 4 | 0 | | 10.93 | 10.93 | 74 |
| 28 | Mike Stephens / Ben Proudy | 5 | 0 | | 10.62 | 10.62 | 73 |
| 28 | Derek Whittemore / | 5 | 0 | | 10.62 | 10.62 | 73 |
| 30 | Wayne Stallings  / Justin Everett | 5 | 0 | | 10.55 | 10.55 | 71 |
| 31 | Jason Sampson / Dillon Sawyer | 5 | 0 | | 10.44 | 10.44 | 70 |
| 32 | Trravis Mewborn / Roger Mewborn | 5 | 0 | 1 | 10.66 | 10.41 | 69 |
| 33 | Mike Gregson / Justin Peaden | 5 | 0 | | 10.27 | 10.27 | 68 |
| 34 | Gary Buckner / Kenny Simpson | 5 | 0 | 1 | 10.42 | 10.17 | 67 |
| 35 | Allen Campbell  / Jimmy Harris | 5 | 3.87 | | 10.00 | 10.00 | 66 |
| 36 | Greg Milligan / Carl Milligan | 5 | 0 | | 9.78 | 9.78 | 65 |
| 37 | Jamie Revis / Dillon Richardson | 5 | 0 | | 9.66 | 9.66 | 64 |
| 38 | Anthony Horton  / Heather Goins | 3 | 5.32 | | 9.55 | 9.55 | 63 |
| 39 | Charlton Solomon  / Rrandy Caldwell | 5 | 0 | | 9.38 | 9.38 | 62 |
| 40 | Thomas Dew / Justin Hof | 4 | 3.86 | | 8.97 | 8.97 | 61 |
| 41 | Brian Haddock  / Joe Haddock | 5 | 0 | 1 | 9.19 | 8.94 | 60 |
| 42 | Lee Jones  / Don Thompson | 5 | 0 | | 8.87 | 8.87 | 59 |
| 43 | Josh Holland / Holden McCleney | 4 | 0 | 1 | 8.66 | 8.41 | 58 |
| 44 | Ricky West / | 5 | 0 | | 8.23 | 8.23 | 57 |
| 45 | Chuck Burgess / Billy Mays | 4 | 0 | | 7.81 | 7.81 | 56 |
| 46 | Dillon Thornton  / Jerry Bragg | 4 | 0 | | 7.12 | 7.12 | 55 |
| 46 | Charlie Allen / | 4 | 0 | | 7.12 | 7.12 | 55 |
| 48 | Tracey King  / David Price | 4 | 0 | | 6.98 | 6.98 | 53 |
| 49 | Jonathan Wiggins  / William Lee Wiggins | 4 | 0 | | 6.77 | 6.77 | 52 |
| 50 | Ben Perez  / Chase Furlough | 4 | 0 | | 6.75 | 6.75 | 51 |
| 51 | Read Samples  / John Tedder | 2 | 0 | | 5.09 | 5.09 | 50 |
| 52 | Hunter Barnett  / Lynwood Barnett | 1 | 0 | | 2.64 | 2.64 | 49 |
| 53 | Zeb West  / Jay Haggard | 0 | 0 | | 0.00 | 0.00 | 48 |
| 53 | Craig Goess  / Denny Moore | 0 | 0 | | 0.00 | 0.00 | 48 |
| 53 | Sammy Hammond  / Tommie Chisenhall | 0 | 0 | | 0.00 | 0.00 | 48 |
| 53 | Michael Chavez  / James Chaney | 0 | 0 | | 0.00 | 0.00 | 48 |
| 53 | Michael Scott Mclamb  / Cooper Phillips | 0 | 0 | | 0.00 | 0.00 | 48 |
| 53 | Kolby Jones  / Keven Jones | 0 | 0 | | 0.00 | 0.00 | 48 |
| 53 | Hank Purvis  / Bryce Faircloth | 0 | 0 | | 0.00 | 0.00 | 48 |
| 53 | Trenton Dawson  / Jeff Stein | 0 | 0 | | 0.00 | 0.00 | 48 |
| 53 | Jeff Farmer / Joe Stewart | 0 | 0 | | 0.00 | 0.00 | 48 |
| 53 | Jim Sittig / Chris Sittig | 0 | 0 | | 0.00 | 0.00 | 48 |
| 53 | CJ Stephens / Robert White | 0 | 0 | | 0.00 | 0.00 | 48 |
| 53 | Cody Matthews / Christian Bland | 0 | 0 | | 0.00 | 0.00 | 48 |
| 53 | Matt Floyd / | 0 | 0 | | 0.00 | 0.00 | 48 |
| 53 | Billy Harrell / Eric White | 0 | 0 | | 0.00 | 0.00 | 48 |
| 53 | Robert Patin / Tony Coley | 0 | 0 | | 0.00 | 0.00 | 48 |
| 53 | Gurney Hoffman / Kale Hoffman | 0 | 0 | | 0.00 | 0.00 | 48 |
| 53 | Cameron Johnson / | 0 | 0 | | 0.00 | 0.00 | 48 |
| 53 | Robin Bowen / Steve Bishop | 0 | 0 | | 0.00 | 0.00 | 48 |
| 53 | Allen Eure / | 0 | 0 | | 0.00 | 0.00 | 48 |
---
Roanoke River Tournament Pictures
[modula id="5715″]
---
Special Thanks
The Soundside Group – Tournament Sponsor
Deborah Barber – Pictures
Anthony Horton – Weigh-in / Live-well Checks
Heather Goins – Boat Check-in – Click Here To Check Out Her YouTube Channel
Tom Harrison – North Carolina Bear Festival
Washington County Tourism