On a hot and humid mid summer's day, Jamie and Ryan Revis found a way to steal the show at the weigh-in by bringing 20.21 pounds of bass to the scales! 
The Eastern NC Bass Challenge took our bass tournament trail to Winton, NC this past weekend where Tunis Landing hosted our 5th tournament of the 2019 season.  50 teams competed in this weekends event but none weighed in as big of a bag than Jamie and Ryan!
---
1st Place Winners Weigh in 20 lbs and Take Home $1500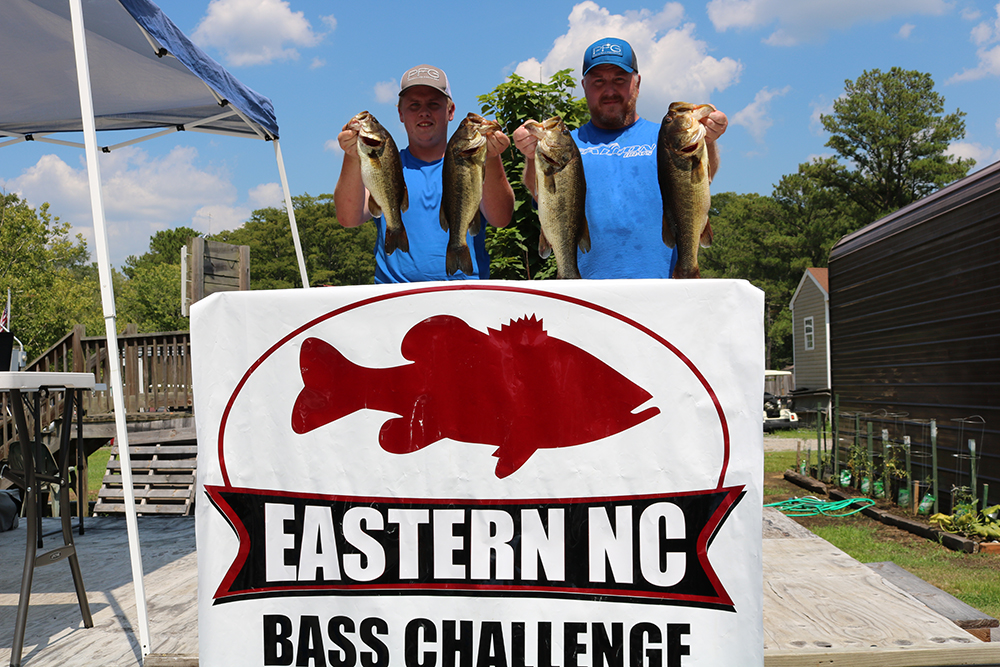 Jamie and Ryan Revis brought 20.21 lbs of bass to the scales Sunday afternoon. The teams bag was anchored by multiple fish in the 3 to 5 pound range. When asked after the weigh-in the team stated they pulled into the first creek they came to and started catching fish right away. They continue catching fish all day long until returning to Tunis Landing for their 3:15 check-in time. The team took home $1500 in cash winnings.
---
Dunlow and Phelps Take 2nd Place and Greenville Toyota Big Fish Prize
2nd place was taken by the team of Bobby Dunlow and Justin Phelps. The team brought a great bag of fish to the scales that weighed in at 18.36 lbs. The pair also won the Greenville Toyota Big Fish prize with a whopping 7.66 lb bass! For their 2nd place finish and the $350 big fish prize, the team won $1100 in cash winnings!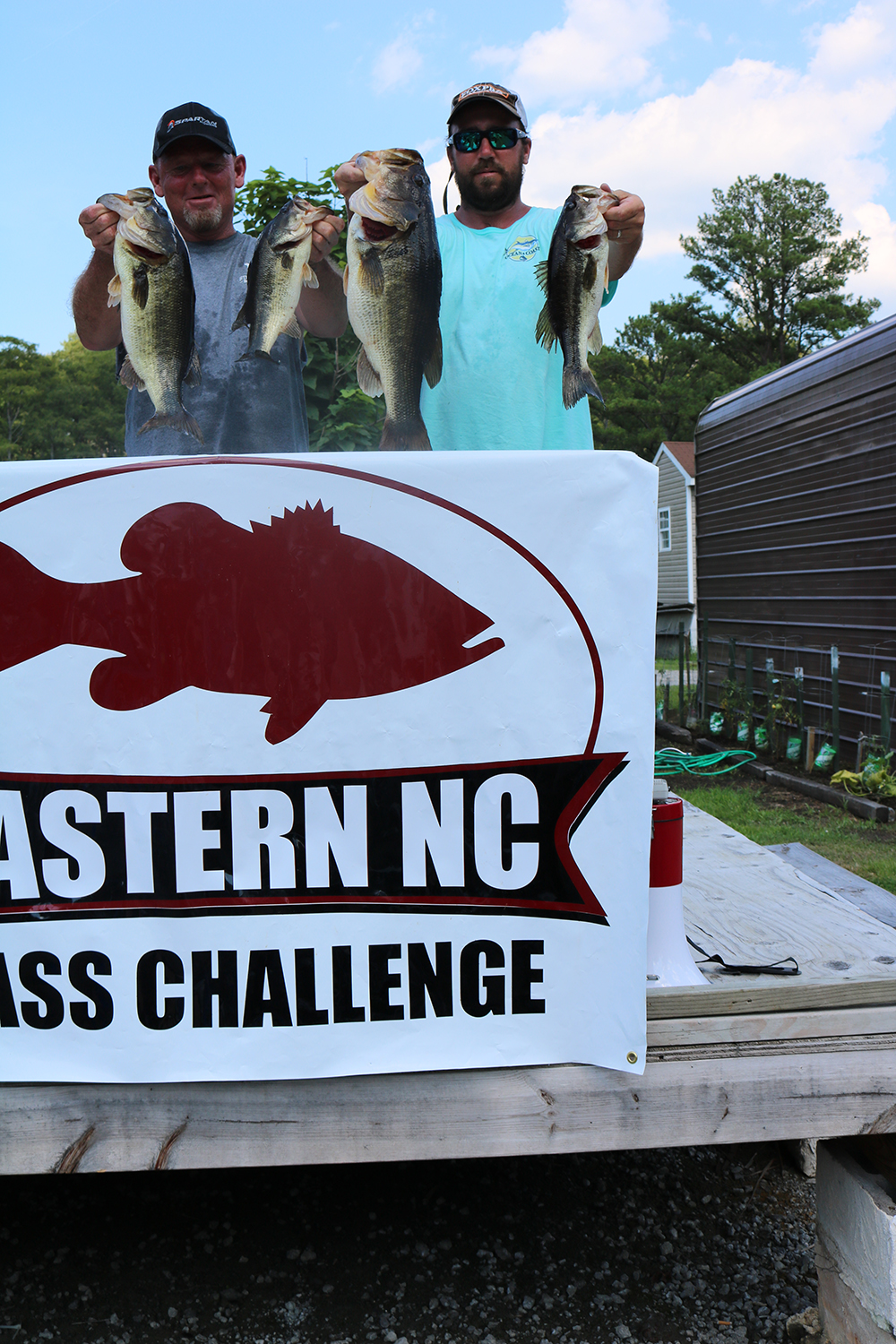 ---
The Rest of the Field
Weighing in 15.84 lbs Shane and Thomas Craft took 3rd place. They had a nice bag of bass anchored by a 5.91 lb big fish. They took home $300 for their finish on the Chowan River. Finishing in 4th place was John Kellett and Adam Baldwin who weighed in 15.50 lbs. 5th place went to the team of Kevin Jones and Tyler Jones who weighed in 14.96 lbs. 6th place was taken by Kevin Ross and Clayton Boyette with 14.52 lbs.
---
Full Tournament Results
Mobile devices may scroll left and right
| | | | | | | | |
| --- | --- | --- | --- | --- | --- | --- | --- |
| PLACE | TEAM | FISH | BF | DEAD | WEIGHT | FINAL | POINTS |
| 1 | Jamie Revis / Ryan Revis | 5 | 5.77 | | 20.21 | 20.21 | 100 |
| 2 | Bobby Dunlow / Justin Phelps | 5 | 7.66 | 1 | 18.61 | 18.36 | 99 |
| 3 | Shane Craft / Thomas Craft | 5 | 5.91 | | 15.84 | 15.84 | 98 |
| 4 | John Kellett / Adam Baldwin | 5 | 5.13 | | 15.50 | 15.50 | 97 |
| 5 | Kevin Jones / Tyler Jones | 5 | 6.22 | 1 | 15.21 | 14.96 | 96 |
| 6 | Kevin Ross / Clayton Boyette | 5 | 0 | 3 | 15.27 | 14.52 | 95 |
| 7 | Brian Stalls / Clark Harrington | 5 | 0 | | 13.19 | 13.19 | 94 |
| 8 | Craig Goess / Denny Moore | 5 | 5.82 | | 12.94 | 12.94 | 93 |
| 9 | Rick Morris / Dale Winstead | 5 | 5.6 | | 12.76 | 12.76 | 92 |
| 10 | Trey Nanny / Cliff Jenkins | 5 | 5.18 | | 12.37 | 12.37 | 91 |
| 11 | Allen Campbell / Jeremy Hicks | 5 | 4.43 | 2 | 12.86 | 12.36 | 90 |
| 12 | Mike May / Scooter Lilley | 5 | 0 | 1 | 12.43 | 12.18 | 89 |
| 13 | Troy Hux / Michael Hobbs | 5 | 0 | | 11.32 | 11.32 | 88 |
| 14 | Ted Park / Justin Coley | 5 | 4.03 | 2 | 11.34 | 10.84 | 87 |
| 15 | Derek Whittemore / | 5 | 0 | | 10.81 | 10.81 | 86 |
| 16 | Steve Vann / Skippy Lewis | 5 | 0 | 1 | 11.02 | 10.77 | 85 |
| 17 | Brandon Hendricks / Jon Williams | 5 | 0 | | 10.32 | 10.32 | 84 |
| 18 | Brian Haddock / Joe Haddock | 5 | 0 | | 10.06 | 10.06 | 83 |
| 19 | CJ Stephens / Robert White | 4 | 0 | | 9.95 | 9.95 | 82 |
| 20 | Wayne Stallings / Justin Everett | 5 | 0 | | 8.91 | 8.91 | 81 |
| 21 | Gary Buckner / Kenny Simpson | 5 | 0 | | 8.85 | 8.85 | 80 |
| 22 | Rob Ramsey / Steve Davis | 4 | 0 | | 8.43 | 8.43 | 79 |
| 23 | Wesley Cashwell / Flash Butts | 5 | 0 | | 8.28 | 8.28 | 78 |
| 24 | Read Samples / John Tedder | 4 | 0 | | 8.12 | 8.12 | 77 |
| 25 | Eddie LeNeave / Scott Shrewsvury | 3 | 0 | | 7.78 | 7.78 | 76 |
| 26 | Justin Peaden / Justin Hof | 4 | 0 | | 7.53 | 7.53 | 75 |
| 27 | Rodney Caldwell / Gator Solomon | 1 | 6.25 | | 6.25 | 6.25 | 74 |
| 28 | Sammy Hammond / Tommie Chisenhall | 2 | 0 | | 4.68 | 4.68 | 73 |
| 29 | Robert Wright / Edward Thielen | 1 | 0 | | 1.69 | 1.69 | 72 |
| 30 | Dean Thompson / Lee House | 1 | 0 | | 1.47 | 1.47 | 71 |
| 31 | Zeb West / Jay Haggard | 0 | 0 | | 0.00 | 0.00 | 70 |
| 31 | Larry Thomas / Gerald Elks | 0 | 0 | | 0.00 | 0.00 | 70 |
| 31 | Kent Manning / Chris Manning | 0 | 0 | | 0.00 | 0.00 | 70 |
| 31 | Tracey King / David Price | 0 | 0 | | 0.00 | 0.00 | 70 |
| 31 | Michael Morris / Scott Shaw | 0 | 0 | | 0.00 | 0.00 | 70 |
| 31 | Cody Howard / Sheldon McKinney | 0 | 0 | | 0.00 | 0.00 | 70 |
| 31 | Brandon Ambrose / Brad Ambrose | 0 | 0 | | 0.00 | 0.00 | 70 |
| 31 | Lee Jones / Don Devor | 0 | 0 | | 0.00 | 0.00 | 70 |
| 31 | Anthony Horton / | 0 | 0 | | 0.00 | 0.00 | 70 |
| 31 | Mike Stephens / Ben Praddy | 0 | 0 | | 0.00 | 0.00 | 70 |
| 31 | Kolby Jones / Keven Jones | 0 | 0 | | 0.00 | 0.00 | 70 |
| 31 | Josh Holland / Holden McCleanney | 0 | 0 | | 0.00 | 0.00 | 70 |
| 31 | Mike Cathart / Matt Smith | 0 | 0 | | 0.00 | 0.00 | 70 |
| 31 | Billy Harrell / Eric White | 0 | 0 | | 0.00 | 0.00 | 70 |
| 31 | Phillip Medford / Tammy Medford | 0 | 0 | | 0.00 | 0.00 | 70 |
| 31 | Michael Chlomoudis / Gage Chlomoudis | 0 | 0 | | 0.00 | 0.00 | 70 |
| 31 | RT Johnson / Allen Eurl | 0 | 0 | | 0.00 | 0.00 | 70 |
| 31 | Randy Barrett / Steve Smith | 0 | 0 | | 0.00 | 0.00 | 70 |
| 31 | Charlie Allen / Lee Mitchell | 0 | 0 | | 0.00 | 0.00 | 70 |
| 31 | Matt Floyd / Catie Floyd | 0 | 0 | | 0.00 | 0.00 | 70 |
---
Chowan River Tournament Pictures
[modula id="7943″]
---
Special Thanks
Deborah Barber – Pictures
Anthony Horton – Weigh-in / Live-well Checks
John Kellett – Tunis Landing