Our 2nd event of 2022 took place on Lake Gaston this past weekend. 78 teams competed in the bass tournament on Lake Gaston. Lake Gaston is always a popular venue and we were excited to have a big crowd fish with the Eastern NC Bass Challenge. Weather conditions were great and exactly 290 bass were weighed in during this event.
Shawn Hammack and Flash Butts brought 17.40 lbs to the scales on Sunday afternoon. That bag of bass was good enough to take 1st place honors and win our 1st place prize of $2,500! Fishing with the Bass Challenge for the first time, they weighed in several 4+ lb fish and also had a big fish of 4.60 lbs.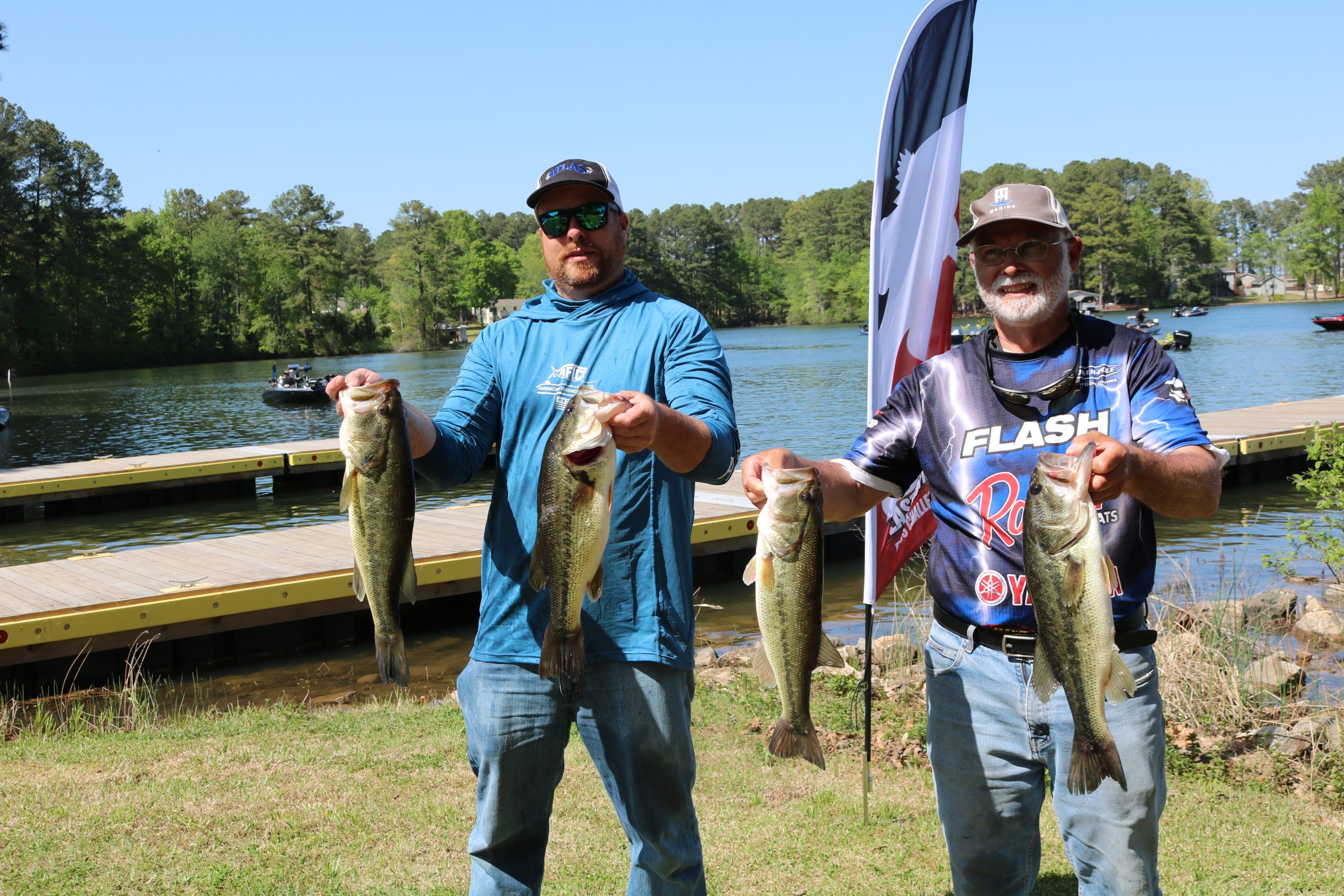 ---
2nd Place / Big Fish – Chris Brown and Dakoda Lucy
The team of Chris Brown and Dakoda Lucy had a great day on Lake Gaston! Not only did they take 2nd place honors by weighing in 16.90 lbs, the team also won the Greenville Toyota Big Bass which weighed in at 6.72 lbs! They also took the lead in the Stoney Creek Outfitters $1,000 2022 Big Bass Prize. The team took home $1,850 for their great day on the water.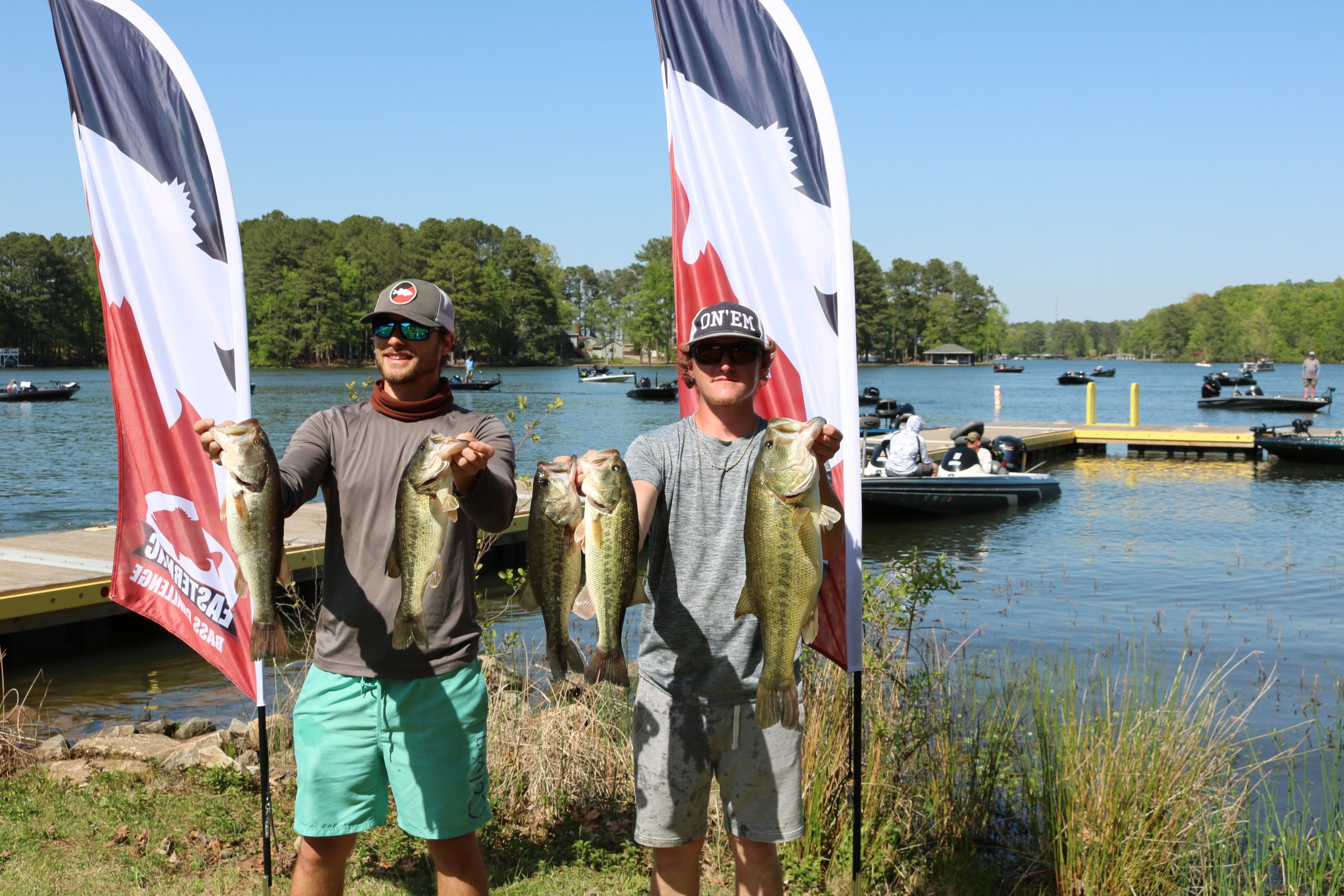 ---
3rd Place – John Anderson and Randy Groves
Bringing 16.16 lbs to the Bass Challenge scales, the team of Randy Groves and John Anderson won 3rd place on Sunday. They brought multiple fish to the scales in the 4lb class. They had a great day on the water and were rewarded with $750 in winnings.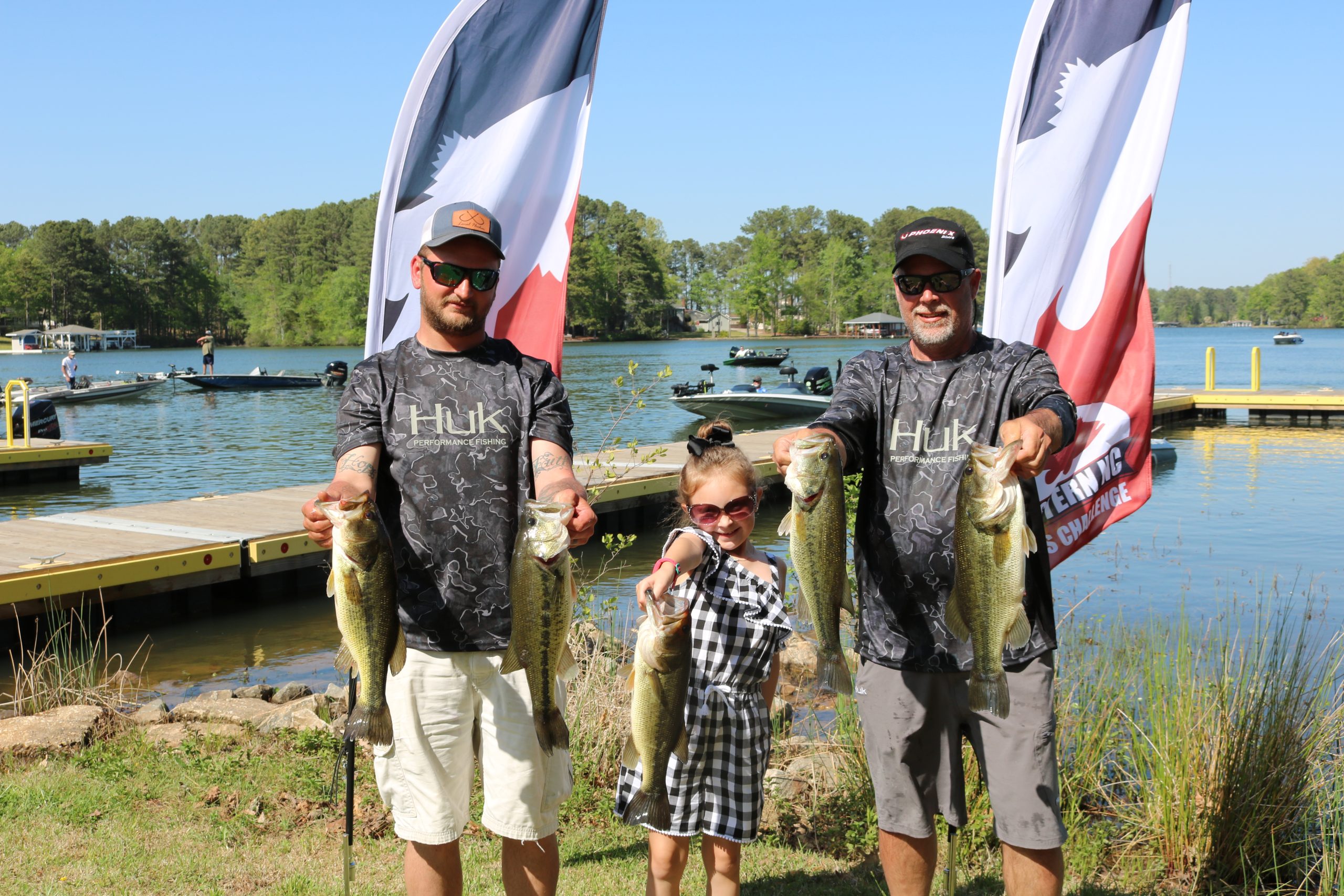 ---
Full Results
| | | | | | | |
| --- | --- | --- | --- | --- | --- | --- |
| PLACE | TEAM | FISH | BIG FISH | DEAD | WEIGHT | FINAL |
| 1 | Flash Butts / Shawn Hammack | 5 | 4.6 | 0 | 17.40 | 17.40 |
| 2 | Chris Bown / Dakoda Lucy | 5 | 6.72 | 0 | 16.90 | 16.90 |
| 3 | John Anderson / Randy Groves | 5 | 0 | 0 | 16.16 | 16.16 |
| 4 | Tony Coley / Justin Coley | 5 | 4.94 | 0 | 15.84 | 15.84 |
| 5 | Zeb West / Jay Haggard | 5 | 3.82 | 0 | 14.72 | 14.72 |
| 6 | Rip Bass | 5 | 4.48 | 0 | 14.68 | 14.68 |
| 7 | Thomas Dew / Brian Haddock | 5 | 5.24 | 0 | 14.66 | 14.66 |
| 8 | Mark Williamson / Scott Shrewsbury | 5 | 0 | 0 | 14.62 | 14.62 |
| 9 | Kevin Jones / Tyler Jones | 5 | 5.04 | 0 | 14.42 | 14.42 |
| 10 | Shane Doughty / Evan White | 5 | 0 | 0 | 14.16 | 14.16 |
| 11 | Craig Goess / Matthew Oakley | 5 | 0 | 0 | 13.82 | 13.82 |
| 12 | Wayne Harris / Larry Thomas | 5 | 4.5 | 0 | 13.70 | 13.70 |
| 13 | Joshua Lanaville / Timothy Davis | 5 | 0 | 0 | 13.62 | 13.62 |
| 14 | Gage Chlomoudis / Michael  Chlomoudis | 5 | 0 | 0 | 13.34 | 13.34 |
| 15 | Brad Stain / Paul King | 5 | 0 | 0 | 12.92 | 12.92 |
| 16 | Ryan Harrell / Billy Patrick | 5 | 0 | 0 | 12.60 | 12.60 |
| 17 | Artie Jones / Anthony Jones | 5 | 0 | 0 | 12.38 | 12.38 |
| 18 | Luke Edwards / Tim Edwards | 5 | 0 | 0 | 12.36 | 12.36 |
| 19 | DR Thorton / Jerry Bragg | 5 | 0 | 1 | 12.56 | 12.31 |
| 20 | Matt Mainhart / John Jenkins | 5 | 3.88 | 2 | 12.70 | 12.20 |
| 21 | Jeff Price / Cason Price | 5 | 0 | 0 | 12.14 | 12.14 |
| 21 | James Noteboom / Chase Crocker | 5 | 0 | 0 | 12.14 | 12.14 |
| 23 | Frankie Dillahunt / John Brookshire | 5 | 0 | 1 | 11.98 | 11.73 |
| 24 | Mike Stephens / Conner Mills | 5 | 4.64 | 0 | 11.46 | 11.46 |
| 25 | Jody Wynn / Andy Martin | 5 | 0 | 0 | 11.34 | 11.34 |
| 26 | Brian Stalls / Clark Harrington | 5 | 0 | 0 | 11.20 | 11.20 |
| 27 | Jim Dick / Greg Dick | 5 | 0 | 0 | 11.16 | 11.16 |
| 28 | Brock Rouse / Sammy Barrow | 5 | 0 | 1 | 11.38 | 11.13 |
| 29 | Ronnie Carlson / John Fowler | 5 | 0 | 0 | 11.04 | 11.04 |
| 30 | Brandon Hendricks / Jon Williams | 5 | 0 | 0 | 10.96 | 10.96 |
| 31 | Wayne Stallings / Justin Everetts | 5 | 0 | 0 | 10.90 | 10.90 |
| 32 | Walt Goff / Phillip Gibson | 5 | 0 | 0 | 10.76 | 10.76 |
| 33 | Tracey King / David Price | 5 | 0 | 0 | 10.56 | 10.56 |
| 34 | JT Denton / Andrew Hartsfield | 5 | 0 | 0 | 10.48 | 10.48 |
| 35 | Todd Schell / Scott Grafton | 5 | 3.62 | 0 | 9.96 | 9.96 |
| 36 | Joseph Cusimano / Steven McIntosh | 5 | 0 | 1 | 10.16 | 9.91 |
| 36 | Wesley Cashwell / | 5 | 0 | 1 | 10.16 | 9.91 |
| 38 | Donna Wilson / Michael Whitehurst | 5 | 0 | 0 | 9.84 | 9.84 |
| 39 | Brian Williams / | 5 | 0 | 0 | 9.76 | 9.76 |
| 40 | Lee Jouglard / | 5 | 0 | 0 | 9.46 | 9.46 |
| 41 | Anthony Horton / CJ Stephens | 5 | 2.78 | 0 | 9.14 | 9.14 |
| 42 | Carter Rowland / James Joyner | 5 | 0 | 0 | 8.92 | 8.92 |
| 43 | Jamie Revis / Ryan Revels | 5 | 0 | 0 | 8.78 | 8.78 |
| 44 | Brenden Hodges / | 5 | 0 | 0 | 7.94 | 7.94 |
| 45 | Josh Brown / Kyle Smith | 5 | 0 | 0 | 7.72 | 7.72 |
| 46 | Mike Cathcart / Matt Smith | 5 | 0 | 0 | 7.54 | 7.54 |
| 47 | Jason Parker / Casey Dayhoff | 5 | 0 | 0 | 7.52 | 7.52 |
| 48 | Dean Thompson / Steve Vann | 5 | 0 | 0 | 7.36 | 7.36 |
| 49 | Ricky Foss / George Long | 4 | 0 | 0 | 7.28 | 7.28 |
| 50 | Lee Mitchell / Charlie Allen | 5 | 0 | 0 | 6.82 | 6.82 |
| 51 | Kevin Ross / Robert Gurganus | 5 | 0 | 1 | 7.02 | 6.77 |
| 52 | Ryan Harris / Davis Jones | 5 | 0 | 0 | 6.72 | 6.72 |
| 53 | Michael Wood / Ron Timm | 5 | 0 | 2 | 7.10 | 6.60 |
| 54 | Chris Daniels / Chad Daniels | 5 | 0 | 1 | 6.80 | 6.55 |
| 55 | John A. Wind / John E. Wind | 5 | 0 | 0 | 6.06 | 6.06 |
| 56 | Travis Mewborn / Tanner Beaman | 4 | 0 | 0 | 5.92 | 5.92 |
| 57 | Joe Daniels / Matt Howell | 2 | 0 | 0 | 3.38 | 3.38 |
| 58 | Eugene E Foushee / Brandon Johnson | 2 | 0 | 1 | 3.26 | 3.01 |
| 59 | Chris Buie / Randy Roa | 3 | 0 | 0 | 2.94 | 2.94 |
| 60 | Tim Jacobs / Brandon Parson | 2 | 0 | 0 | 2.10 | 2.10 |
| 61 | Tom Baird / John Wolf | 2 | 0 | 0 | 2.02 | 2.02 |
| 62 | Lee Jones / Don | 1 | 0 | 0 | 1.34 | 1.34 |
| 63 | Denny Moore / Seth Barnes | 0 | 0 | 0 | 0.00 | 0.00 |
| 63 | Justin Hof / Justin Peaden | 0 | 0 | 0 | 0.00 | 0.00 |
| 63 | Brian Morgan / Jason Hicks | 0 | 0 | 0 | 0.00 | 0.00 |
| 63 | Michael Hobbs / Larry Hobbs | 0 | 0 | 0 | 0.00 | 0.00 |
| 63 | Clayton Boyette / Allen Eure | 0 | 0 | 0 | 0.00 | 0.00 |
| 63 | Damon Brock / Ken Minor | 0 | 0 | 0 | 0.00 | 0.00 |
| 63 | Ricky Todd / Andy Liles | 0 | 0 | 0 | 0.00 | 0.00 |
| 63 | Joey Scott / John Edwards | 0 | 0 | 0 | 0.00 | 0.00 |
| 63 | Shane Pembelton / | 0 | 0 | 0 | 0.00 | 0.00 |
| 63 | Dan Leggett / Brian Sessoms | 0 | 0 | 0 | 0.00 | 0.00 |
| 63 | Jerry Cullom / Lana Balltzglier | 0 | 0 | 0 | 0.00 | 0.00 |
| 63 | Mike May / Dale Winstead | 0 | 0 | 0 | 0.00 | 0.00 |
| 63 | Dennis Phillips / Craig Phillips | 0 | 0 | 0 | 0.00 | 0.00 |
| 63 | Samuel Hammond | 0 | 0 | 0 | 0.00 | 0.00 |
| 63 | Bobby Lassister / | 0 | 0 | 0 | 0.00 | 0.00 |
| 63 | Ryan Hobbs / Will Phillips | 0 | 0 | 0 | 0.00 | 0.00 |
---
Tournament Pictures