48 teams competed this past weekend on the Neuse River but Jason Theis won the $1400 first place prize with 16.78 lbs! It was hot, humid and the fishing was tough for most teams in New Bern Sunday, however Jason found a way to bring in a 5 fish limit that was good enough to win our final regular season tournament of 2019.
---
1st Place Winner – Jason Theis takes home $1400 1st Place Prize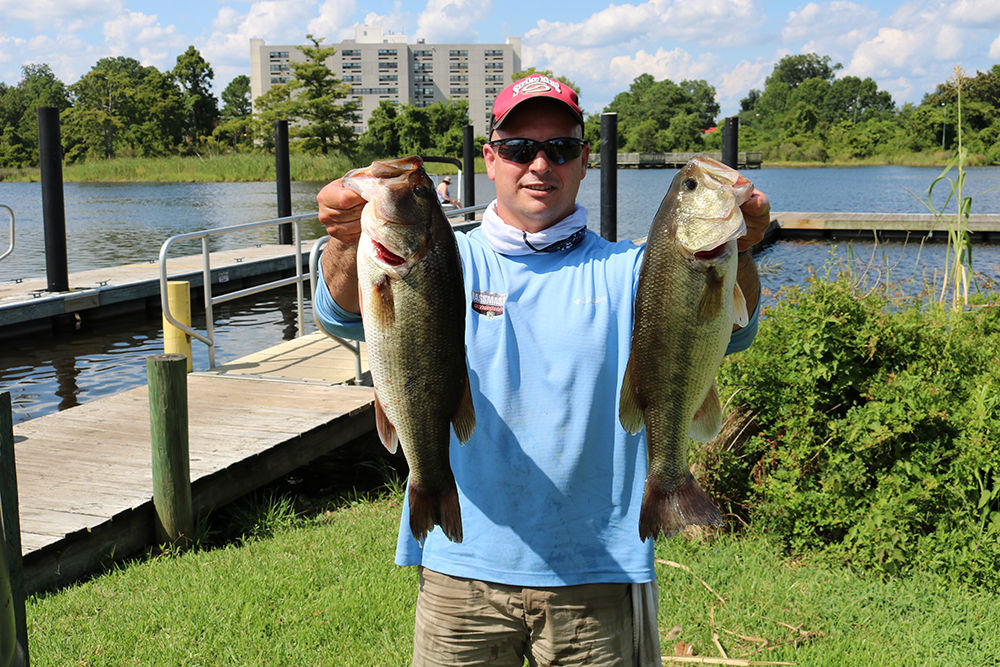 Jason Theis brought 16.78 lbs to the scale Sunday afternoon during the Eastern NC Bass Challenge's Neuse River tournament at Lawsons Creek. Fishing without a partner, Jason won the tournament with a solid limit of bass anchored by multiple 4lb fish! Jason stated after the tournament that he caught his 2 biggest fish on soon after reaching his first stop of the day. Jason took home $1400 in cash winnings.
---
Kellett and Baldwin Take 2nd Place and Greenville Toyota Big Fish Prize
2nd place was taken by the team of John Kellett and Adam Baldwin who weighed in 16.02 lbs of bass Sunday. Their great finish was helped by the Greenville Toyota Tournament Big Fish which weighed in at 4.84 lbs. With their 2nd place finish the team also secured the 2019 Team Points Championship! Their total take home winnings Sunday was $1050!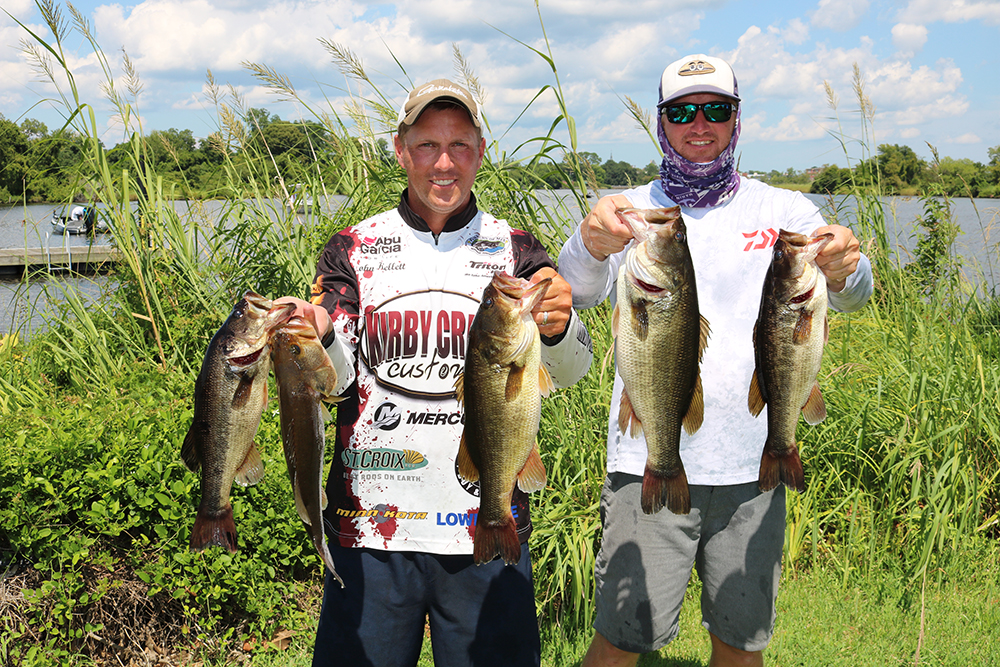 ---
The Rest of the Field
Weighing in 14.68 lbs was Bubba Barnett and Jeremy Miller who took 3rd place and $300 in winnings! 4th place was won by Larry Thomas and Gerald Elks who weighed in 14.65 lbs. And the final money spot was taken by the team of Paul King and Austin King who finished in 5th place  with 11.24 lbs.
---
Full Tournament Results
Mobile devices may scroll left and right
| | | | | | | | |
| --- | --- | --- | --- | --- | --- | --- | --- |
| PLACE | TEAM | FISH | BF | DEAD | WEIGHT | FINAL | PTS |
| 1 | Jason Theis / | 5 | 4.26 | | 16.78 | 16.78 | 100 |
| 2 | John Kellett / Adam Baldwin | 5 | 4.84 | | 16.02 | 16.02 | 99 |
| 3 | Bubba Barnett / Jeremy Miller | 5 | 0 | | 14.68 | 14.68 | 98 |
| 4 | Larry Thomas / Gerald Elks | 5 | 0 | 1 | 14.90 | 14.65 | 97 |
| 5 | Paul King / Austin King | 5 | 0 | | 11.24 | 11.24 | 96 |
| 6 | Chris Cox / Monte Morgan | 5 | 0 | | 11.06 | 11.06 | 95 |
| 7 | Josh Brown / Jordan Brown | 5 | 0 | | 11.05 | 11.05 | 94 |
| 8 | Michael Morris / Shawn Reuter | 5 | 3.64 | | 10.89 | 10.89 | 93 |
| 9 | Zeb West / Jay Haggard | 5 | 0 | | 10.18 | 10.18 | 92 |
| 10 | Dennis Boykin / Jim Hipkiss | 5 | 0 | | 9.95 | 9.95 | 91 |
| 10 | Winston Clinedinst / Robert Richardson | 5 | 3.62 | | 9.95 | 9.95 | 91 |
| 10 | Bob Monroe / Chris Campbell | 5 | 0 | | 9.95 | 9.95 | 91 |
| 13 | Read Samples / John Tedder | 5 | 0 | | 9.79 | 9.79 | 88 |
| 14 | Wayne Stallings / Justin Everett | 5 | 0 | | 9.78 | 9.78 | 87 |
| 14 | Steve Vann / Skippy Lewis | 5 | 0 | | 9.78 | 9.78 | 87 |
| 16 | Gary Buckner / Kenny Simpson | 5 | 0 | | 9.65 | 9.65 | 85 |
| 17 | Craig Goess / Denny Moore | 5 | 0 | | 9.59 | 9.59 | 84 |
| 18 | Kevin Jones / Tyler Jones | 5 | 0 | | 9.02 | 9.02 | 83 |
| 19 | Mike Stephens / Michael Stephens | 5 | 0 | | 8.94 | 8.94 | 82 |
| 20 | Justin Peaden / Justin Hof | 5 | 0 | | 8.70 | 8.70 | 81 |
| 21 | Hunter Barnett / Hunter Whitman | 5 | 0 | | 8.29 | 8.29 | 80 |
| 22 | Brian Haddock / Joe Haddock | 4 | 0 | | 8.27 | 8.27 | 79 |
| 23 | Jake Osborne / Tristin Dauzat | 5 | 0 | | 7.99 | 7.99 | 78 |
| 24 | Roger Thomas / Garrett Creef | 5 | 0 | | 7.20 | 7.20 | 77 |
| 25 | Brandon Hendricks / Jon Williams | 4 | 0 | | 7.16 | 7.16 | 76 |
| 26 | Dillon Thornton / Jerry Bragg | 4 | 0 | | 6.42 | 6.42 | 75 |
| 27 | Kevin Ross / Clayton Boyette | 4 | 0 | | 5.90 | 5.90 | 74 |
| 28 | Andrew Pittman / Chandler Fornes | 3 | 0 | | 5.60 | 5.60 | 73 |
| 29 | Cody Howard / Sheldon McKinney | 3 | 0 | | 5.53 | 5.53 | 72 |
| 30 | Brian Stalls / Clark Harrington | 3 | 0 | | 4.90 | 4.90 | 71 |
| 31 | Rodney Caldwell / Randy Rhoderic | 3 | 0 | | 4.63 | 4.63 | 70 |
| 32 | Dean Thompson / Brian Percise | 3 | 0 | | 4.05 | 4.05 | 69 |
| 33 | Ted Park / Justin Coley | 3 | 1.57 | | 3.99 | 3.99 | 68 |
| 34 | Jamie Revis / Dylan Richardson | 2 | 0 | | 3.82 | 3.82 | 67 |
| 35 | Jonathan Wiggins / William Wiggins | 1 | 0 | | 0.79 | 0.79 | 66 |
| 36 | Kent Manning / Chris Manning | 0 | 0 | | 0.00 | 0.00 | 65 |
| 36 | Sammy Hammond / Tommie Chisenhall | 0 | 0 | | 0.00 | 0.00 | 65 |
| 36 | Tracey King / David Price | 0 | 0 | | 0.00 | 0.00 | 65 |
| 36 | Brandon Ambrose / Braiden Ambrose | 0 | 0 | | 0.00 | 0.00 | 65 |
| 36 | Rickey Foss / George Long | 0 | 0 | | 0.00 | 0.00 | 65 |
| 36 | Kolby Jones / Keven Jones | 0 | 0 | | 0.00 | 0.00 | 65 |
| 36 | Joey Rouse / | 0 | 0 | | 0.00 | 0.00 | 65 |
| 36 | Brian Bell / | 0 | 0 | | 0.00 | 0.00 | 65 |
| 36 | Hank Purvis / Bryce Faircloth | 0 | 0 | | 0.00 | 0.00 | 65 |
| 36 | Phillip Medford / Hunter Medford | 0 | 0 | | 0.00 | 0.00 | 65 |
| 36 | Charlie Allen / Brian Tart | 0 | 0 | | 0.00 | 0.00 | 65 |
| 36 | Kale Hoffman / Gurney Hoffman | 0 | 0 | | 0.00 | 0.00 | 65 |
| 36 | Chris Wells / | 0 | 0 | | 0.00 | 0.00 | 65 |
---
Neuse River Tournament Pictures
[modula id="9111″]
---
Special Thanks
Jennifer Wobbleton – Pictures
Roger Thomas – Weigh-in / Live-well Checks
Garrett Creef – Live-well Checks