In our last event of 2021, it took a double-digit bass and 2 great fishermen to come away with the win.
Larry Thomas and Wayne Harris won our final tournament of the year with a 2-day weight of 36.80 lbs. After weighing in 14.06 lbs on Day 1, the team brought a TRUE giant bass to the scales that weighed in at 12.02 lbs! Their total weight on day 2 was 22.74 lbs! The team jumped from 11th to 1st on Day 2.
By weighing in the biggest bass ever in a Bass Challenge event, Larry and Wayne won the $300 Day 2 Greenville Toyota Big Bass Prize, the 2021 $1000 Stoney Creek Outdoors Big Bass Prize, and the $3,000 1st Place Classic Prize! This made their total prize money $4,300! This is the largest payout ever in a Bass Challenge event.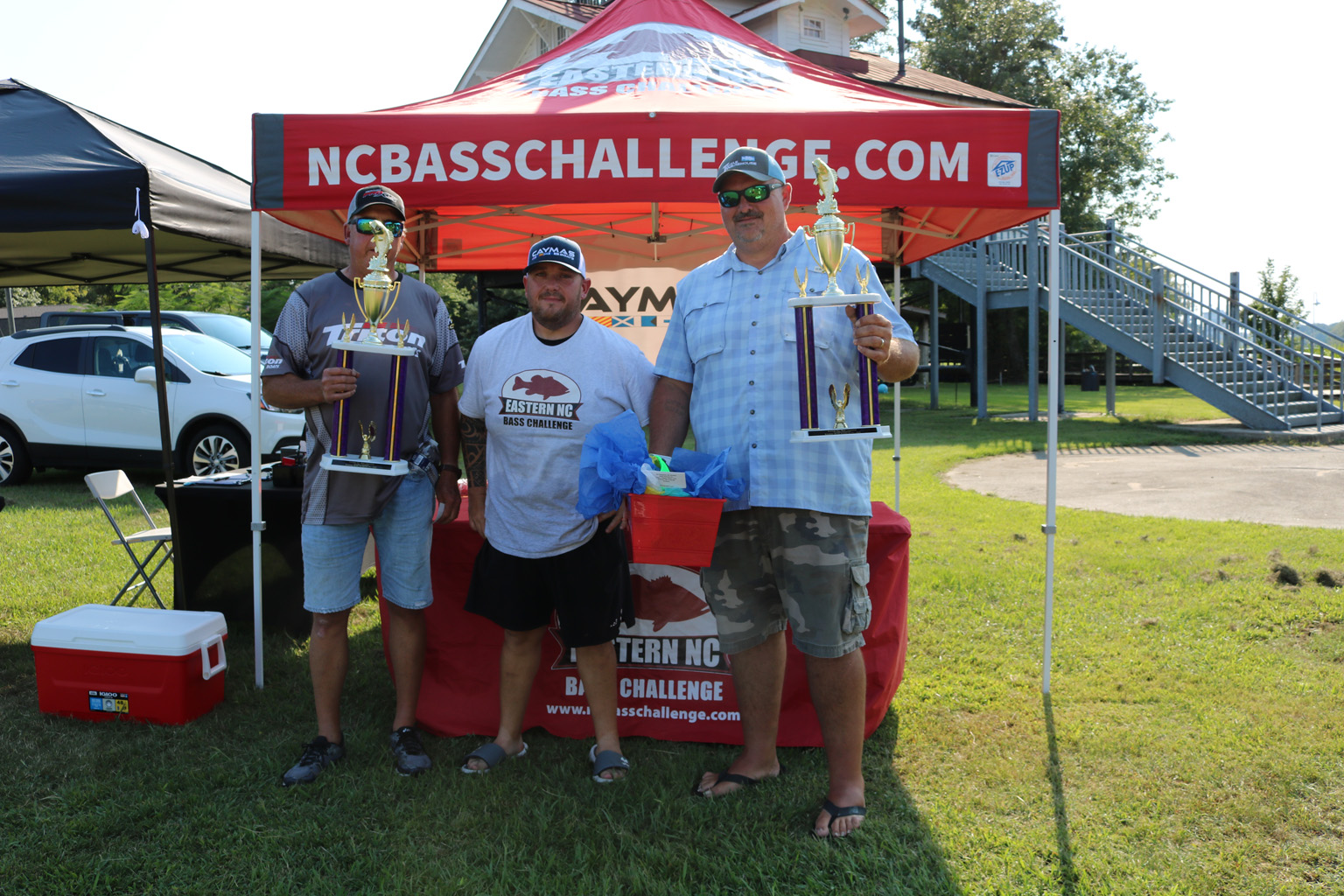 ---
2nd Place – JA Williford & Michael Chlomoudis
Finishing in 2nd place was JA Williford & Michael Chlomoudis. They had a 2 day weight of 34.40 lbs. They had a very solid tournament weigh-in 16, and 17 lbs of bass each day. They also had big fish of 6.26 lbs and 5.84 lbs. They were rewarded with $1,500 in winnings.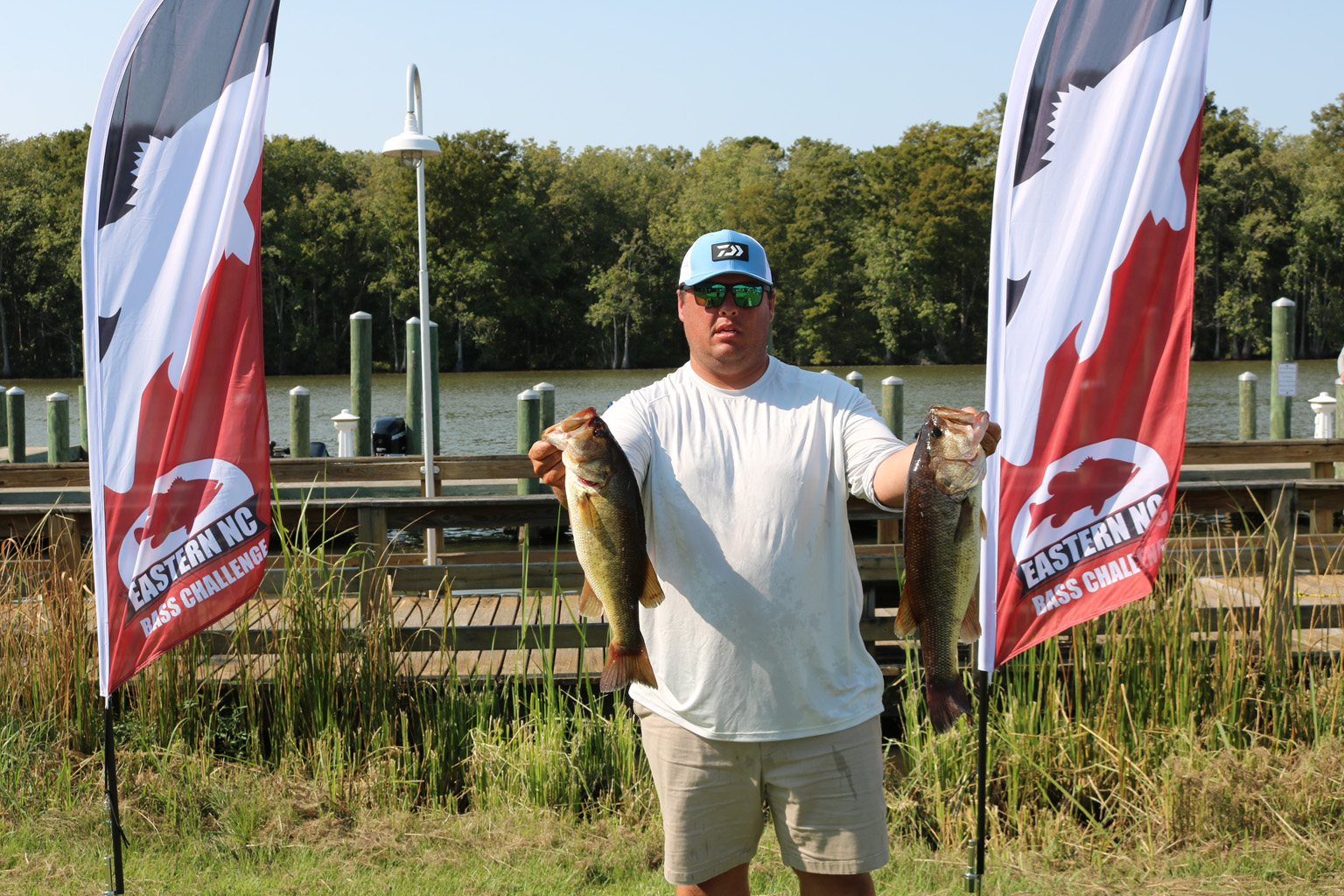 ---
3rd Place – Justin Hof & Justin Peaden
Finishing in 3rd place was Justin Hof & Justin Peaden. They also had a great event and were very consistent on both days by weighing in 16lbs on Day 1 and 15lbs on Day 2. Their biggest fish of the event was a 5.92 lb bass.  They took home $1,000 in winnings for their great weekend on the water.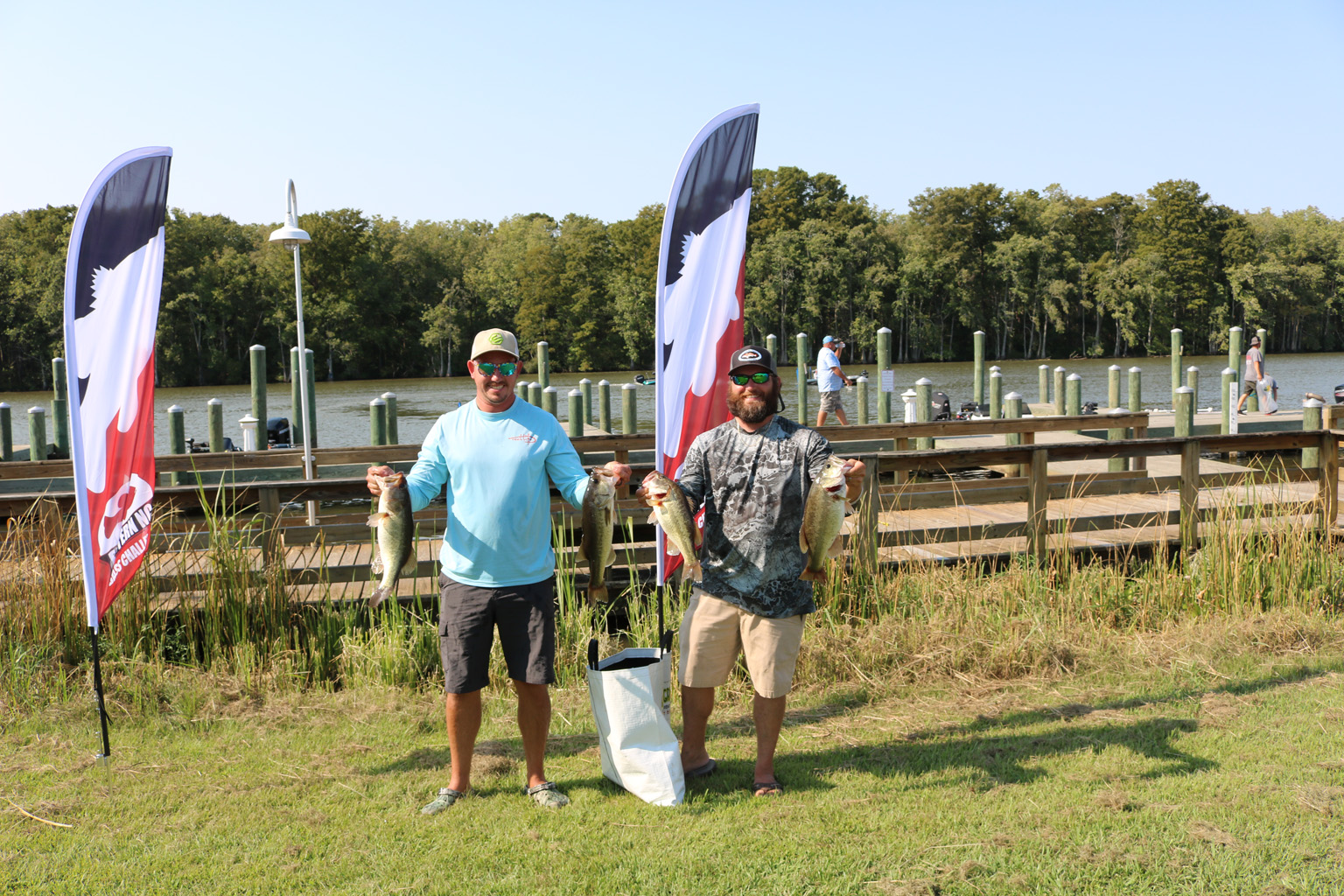 ---
The Rest of the Field
With 56 teams competing in this event, the Bass Challenge rewarded the top 8 teams competing. Additionally, we also paid out a big fish prize in the amount of $300 each day. Our Day 1 Big Fish prize was sponsored by Freedom Realty Group and won by Robert Brogden and Jerry Lee Futrell who weighed in a big fish of over 7lbs Saturday. It took a 2-day weight of over 26lbs to make it inside our top 8 money line.
Full Results
| | | | | | | | | | | |
| --- | --- | --- | --- | --- | --- | --- | --- | --- | --- | --- |
| PLACE | TEAM | DAY1 FISH | BIG FISH | DEAD | WEIGHT | DAY 2 FISH | BIG FISH | DEAD | WEIGHT | FINAL |
| 1 | Larry Thomas / Wayne Harris | 5 | | | 14.06 | 5 | 12.02 | | 22.74 | 36.80 |
| 2 | JA Williford / Michael Chlomoudis | 5 | 6.26 | | 16.62 | 5 | 5.84 | | 17.78 | 34.40 |
| 3 | Justin Hof / Justin Peaden | 5 | 5.92 | | 16.52 | 5 | | | 15.14 | 31.66 |
| 4 | Jeff Price / Mike May | 5 | 4.12 | | 19.10 | 5 | | | 11.28 | 30.38 |
| 5 | Adam Baldwin / Eric Roberson | 5 | 5.12 | | 17.72 | 5 | | | 12.50 | 30.22 |
| 6 | Walt Goff / Phillip Gibson | 5 | | | 13.70 | 5 | 5.84 | | 14.70 | 28.40 |
| 7 | Clayton Boyette / Derek Whitmoore | 5 | 5.24 | | 15.96 | 5 | | | 12.18 | 28.14 |
| 8 | Donna Wilson / Michael Whitehurst | 5 | | | 10.84 | 5 | 5.24 | | 15.70 | 26.54 |
| 9 | Keven Jones / Tyler Jones | 5 | | | 14.26 | 5 | | | 12.22 | 26.48 |
| 10 | Brian Cooper / Mike Evans | 5 | | | 13.20 | 4 | 5.58 | | 13.14 | 26.34 |
| 11 | Jason Sampson / | 5 | | | 15.94 | 5 | | | 9.64 | 25.58 |
| 12 | Wayne Stallings / Justin Everett | 5 | | | 11.84 | 5 | | | 13.66 | 25.50 |
| 13 | Dean Thompson / Steve Vann | 5 | | | 13.06 | 5 | | | 12.42 | 25.48 |
| 14 | Kevin Ross / Robert Gurganus | 5 | 5.22 | | 14.18 | 5 | | | 11.06 | 25.24 |
| 15 | Luke Edwards / Tim Edwards | 4 | | | 7.98 | 5 | 5.14 | | 16.94 | 24.92 |
| 16 | Josh Brown / Kyle Smith | 5 | | | 10.90 | 5 | 5.02 | | 13.86 | 24.76 |
| 17 | Bubba Barnett / Jeremy Miller | 5 | | | 14.76 | 5 | | | 9.96 | 24.72 |
| 18 | Lee Jones / Todd Schell | 5 | 5.72 | | 18.90 | 3 | | | 4.70 | 23.60 |
| 19 | Toney Coley / Justin Coley | 4 | | | 9.82 | 5 | | | 13.60 | 23.42 |
| 20 | Jody Wynn / Cameron zitkus | 4 | | 1 | 6.94 | 5 | | | 15.76 | 22.45 |
| 21 | Brian Stalls / Clark Harrington | 5 | | | 11.60 | 5 | | | 10.76 | 22.36 |
| 22 | Travis Mewborn / Tanner Beaman | 5 | | | 10.22 | 5 | 4.64 | | 12.02 | 22.24 |
| 23 | Zeb West / Jay Haggard | 5 | | | 11.58 | 5 | | | 10.46 | 22.04 |
| 24 | Keven Jones / Kolby Jones | 5 | | | 12.46 | 5 | 3.84 | | 9.42 | 21.88 |
| 25 | John Brookshire / Frank Dillahunt | 5 | | | 11.94 | 4 | | | 9.02 | 20.96 |
| 26 | Brian Williams / Michael Ore | 5 | | | 10.90 | 5 | | | 9.96 | 20.86 |
| 27 | Jamie Revis / Read Samples | 5 | | 1 | 10.88 | 5 | | | 9.42 | 20.05 |
| 28 | Ricky Foss / George Long | 4 | | | 6.60 | 5 | | | 13.28 | 19.88 |
| 29 | Shane Craft / Thomas Craft | 3 | | | 8.76 | 5 | | | 10.90 | 19.66 |
| 30 | Craig Goess / Matthew Oakley | 5 | | | 9.70 | 5 | | | 9.46 | 19.16 |
| 31 | Allen Campbell / Chris Crandell | 4 | | | 5.94 | 4 | 5.52 | | 12.92 | 18.86 |
| 32 | Christopher Campbell / Bob Monroe | 3 | | | 5.76 | 5 | 4.76 | | 11.62 | 17.38 |
| 33 | Roger Thomas / | 5 | | | 11.18 | 3 | | | 4.52 | 15.70 |
| 34 | Brandon Parson / Tim Jacobs | 3 | | | 5.22 | 5 | | | 9.34 | 14.56 |
| 35 | Brandon Ambrose / Brad Ambrose | 3 | | | 5.86 | 3 | 4.7 | | 7.86 | 13.72 |
| 36 | Paul King / Bradley Stain | 5 | | | 12.60 | | | | | 12.60 |
| 37 | Jamie Harris / Joel harris | 1 | | | 3.68 | 3 | 4.1 | | 8.86 | 12.54 |
| 38 | Joe Daniels / Matt Howell | 2 | 4.52 | | 6.04 | 3 | | | 6.38 | 12.42 |
| 39 | Robert Brogden / Jerry Lee Futrell | 3 | 7.28 | | 11.10 | 0 | | | 0.00 | 11.10 |
| 40 | Rip Bass | 5 | | | 10.82 | | | | | 10.82 |
| 41 | Mike Cathcart / Matt smith | 5 | 4.4 | | 10.42 | 0 | | | 0.00 | 10.42 |
| 42 | Lee Villarreal / | 2 | | | 3.10 | 2 | 4.56 | | 6.50 | 9.60 |
| 43 | Michael Williams / Cecil Scott | 5 | | | 9.32 | | | | | 9.32 |
| 44 | Denny Moore / Seth Barnes | 3 | | | 5.40 | 2 | | | 3.18 | 8.58 |
| 45 | Rob Conway / Charles Anderson | 4 | | | 7.42 | | | | | 7.42 |
| 46 | Brandon Hendricks / Jon Williams | 3 | | | 6.00 | | | | | 6.00 |
| 47 | Shane Zelazo / Colin Zelazo | 3 | | | 5.26 | | | | | 5.26 |
| 48 | Tracey King / David Price | 2 | | | 5.12 | | | | | 5.12 |
| 49 | Charlie Allen / Lee Mitchell | 3 | | | 4.74 | | | | | 4.74 |
| 50 | Dennis Boykin / Jimmy Hipkiss | 2 | | | 4.54 | | | | | 4.54 |
| 51 | Shawn Keene / Cooper Aaron | 1 | | | 1.16 | | | | | 1.16 |
| 52 | Sammy Hammond / JD Hammond | | | | | | | | | 0.00 |
| 52 | Jason Holland / Brent Boyette | | | | | | | | | 0.00 |
| 52 | Dan Leggett Jr | | | | | | | | | 0.00 |
| 52 | Kevin Bass Jr / Dylan Parker | | | | | | | | | 0.00 |
| 52 | Bobby Lassiter | | | | | | | | | 0.00 |
---