The Eastern NC Bass Challenge will host the official bass tournament of the 2019 Black Bear Fest held in Plymouth, North Carolina.
The Black Bear Fest is a nationally known event bringing thousands of spectators to Washington County on an annual basis. We're very pleased to have partnered with the Town of Plymouth and the Black Bear Fest to showcase some of the finest anglers in Eastern North Carolina.

---
The Soundside Group Sponsorship
In addition to our partnership with the Black Bear Fest, we are proud to announce a sponsorship with The Soundside Group of Plymouth, NC. The Soundside Group delivers technology solutions to businesses and government organizations in eastern North Carolina.
With this partnership we will be able to offer an additional $200 in prize money to our first place winners in our Bear Fest Tournament!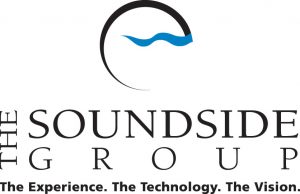 Location & Times
Location: Roanoke River, Plymouth NC
Address: Water Street, Plymouth NC – View Map
Date: Sunday, June 2, 2019
Blast Off: Approximately 5:50 am
Registration: 4:00 am – 5:30  am
Check-In: Flight 1 – 3:00 pm, Flight 2 – 3:15 pm
The tournament director will be on location at 4:00 am to begin accepting registration payments and to check anglers in. Boat numbers will be assigned by order of payment. You must have your live well checked and approved by an Eastern NC Bass Challenge staff member before you blast off. Check-in time is 3:00 pm. If the field of teams is over 40 boats, then the field will be split in half and the 2nd flight will be due in at 3:15 pm.
Tournament Format
Format: Team – 1 or 2 anglers per boat
Fish Limit: 5 Fish Limit – All fish 14″ or greater
Fee's & Requirements
Entry Fee: $50 per team – Pay Online 
Sidepot Fee: $20 per team (Optional) – Pay Online 
Membership Fee: $20 per angler (Required, One Time Fee ) – Pay Online 
Official Rules: View Official Rules
Angler Disclaimer: View Angler Disclaimer – Each angler is required to sign the angler disclaimer once per year. This document will be available to sign at the boat ramp the morning of the tournament.

Awards & Prizes
Big Fish Award: $350 cash Provided by Greenville Toyota
Cash Prizes: Cash prizes will be awarded based on final tournament standings Number of places paid is based on participation.
Bonus Money: An additional $200 will be provided to the 1st place winners thanks to our great friends at The Soundside Group.
​
How to Sign Up
It is recommended to pay your entry fee's online. By paying online you can skip the lines at the boat ramp and secure an earlier starting position. You may also pay your entry fee's in person with cash or check. Click here to purchase entry fee's online now.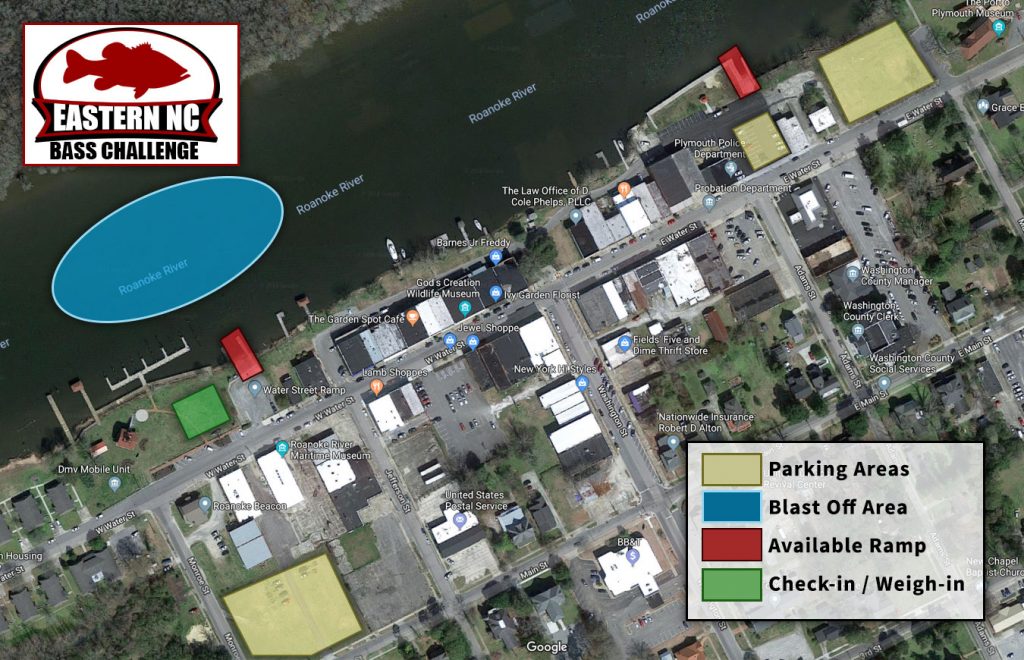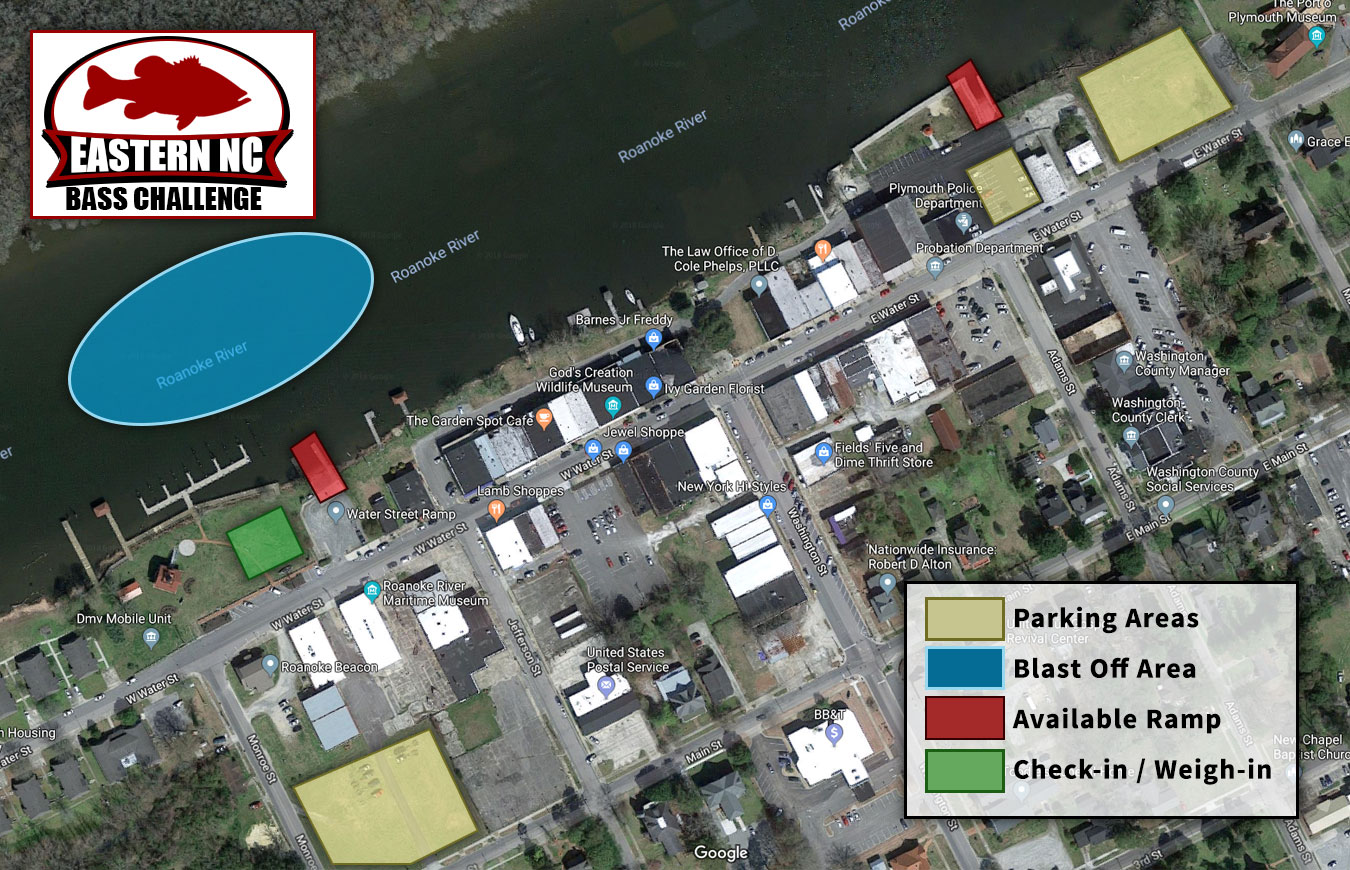 We are expecting a big field for our first tournament of the year. It is advised to arrive at the ramp early. Water Street in Plymouth offers 2 ramps for anglers to use. You may use either ramp to launch your boat. However, you are required to check-in with the tournament director and have your live well checked before blast off. Blast off will occurr in front of the light house ramp as mark on the map above.
Weigh-In
Weigh-in will begin at 2:00 pm. You are eligible to weigh-in early if you desire. Weigh-in will last until 3:30 pm. If you need additional time to weigh-in your fish you are required to notify the tournament director before this time elapses. Fair warning will be given before the scales are closed.
It is the competing teams responsibility to ask for courtesy measurements on potential short fish and to request a big fish weight.
Contact Information
Tournament Director: Jeffrey Davis, Jr.
Contact Number: 252.661.5454
Please call or text with any questions.