The Eastern NC Bass Challenge will host the official bass tournament of the 2022 Black Bear Fest held in Plymouth, North Carolina. The Black Bear Fest is a nationally known event bringing thousands of spectators to Washington County on an annual basis. Directed by Tom Harrison, the NC Bear Fest has won several awards and Tom has been named the 2022 "Director of the Year" by the NCAF&E. We're very pleased to have partnered with the Town of Plymouth and the Black Bear Fest to showcase some of the finest anglers in Eastern North Carolina. This tournament has become a tradition over the past 4 years and we're excited to see it continue.
The Bear Fest will have events and activities June 3-5 with the Bass Challenge tournament being the final event on Sunday. Activities include boat rides, an air show, sky divers, live music, and so much more. Click here to view a full list of activities.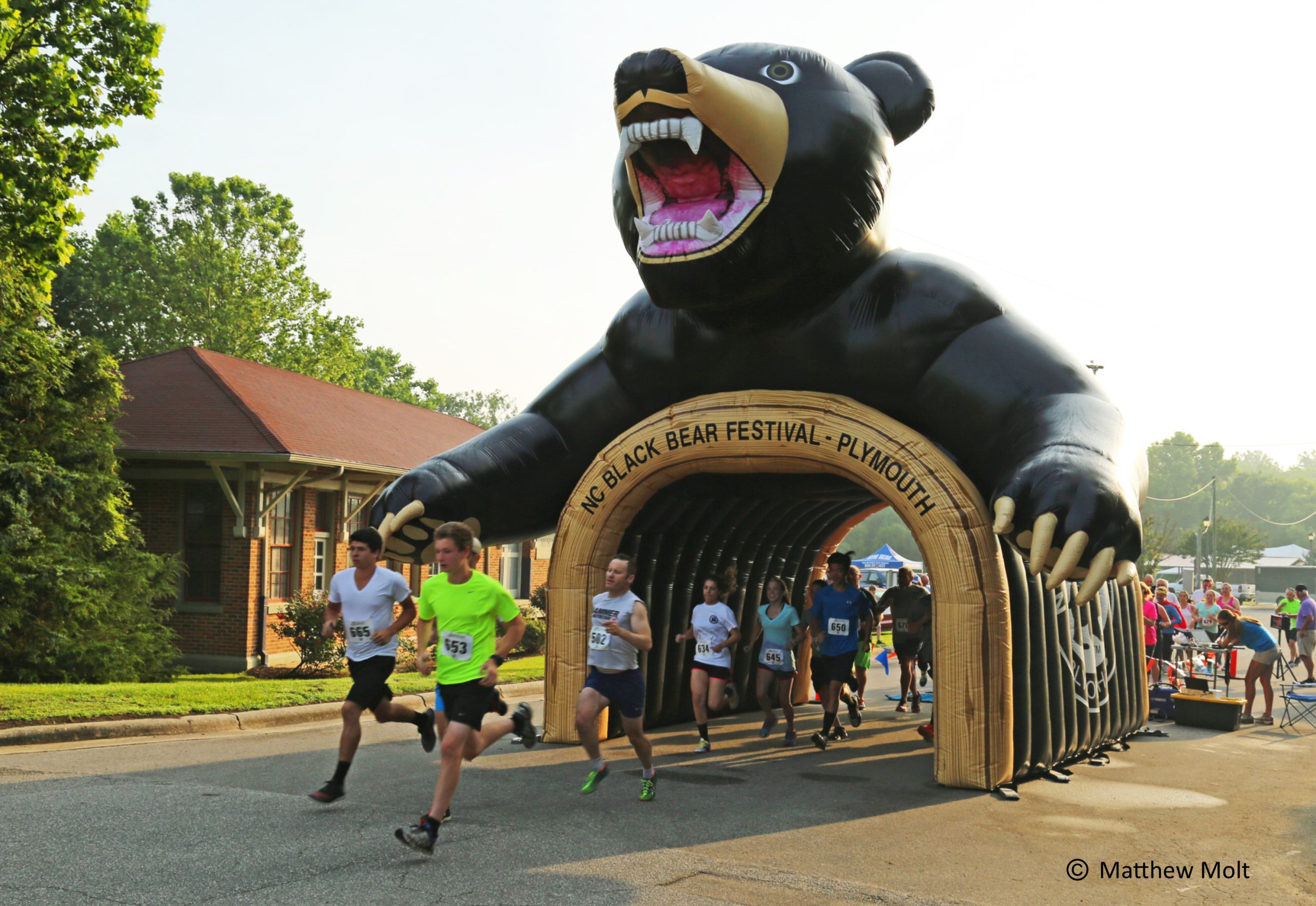 ---
Bass Tournament Info
Date: Sunday, June 5
City: Plymouth, NC
Launch Ramp: Water Street Ramp – Plymouth, NC – Google Map Link
Fish Limit: 5 fish, all fish must be 14 inches or greater.
Tournament Times
Our crew will be on-site at 4:30 am to handle onsite registration and to begin check-in for the event. All anglers must check in with our staff and receive a boat number slip before our tournament begins. Livewell checks will be performed as you put your boat into the water. Blast off will begin at safe light. We always blast our anglers off as early as possible to maximize fishing time. We anticipate blasting off for this event at 5:50 am.
Onsite Registration: 4:30 am
Blast Off: Safe Light – Approximately 5:50 am
Check-In: Weigh-in begins at 3:00 pm but you may weigh in as early as 1:30 pm if you'd like.
Tournament Blast Off
PLEASE READ – When you launch your boat into the water, please clear the ramp so others may have ample space to launch as well. We will call boat numbers from the dock at the boat ramp. Finally, be courteous at the boat ramp, dim your lights when launching your boat, and be safe.
Boat Numbers and Flights
During registration, teams are assigned boat numbers. We blast off boats in order based on these numbers. Every 25 boats begins a new flight. The first flight is due back in at 3:00 and every proceeding flight after that is due back in 10 minutes later. Boat numbers are visible on the homepage of this website.
Fees and Costs
All fees and costs for this event may be paid in person at the ramp during tournament check-in. However, we recommend paying online to make things easier for you on tournament morning.
Entry Fee: $100 – Purchase Online
Membership Fee: $25 per angler (one-time fee, Women and children under 18 and younger are excluded from this fee) – Purchase Online
Truck/Trailer Parking
There is ample parking at this location. Anglers may launch their boat and park in the grass parking lot as indicated on the map below. Anglers may also use the parking area down the street by the police station.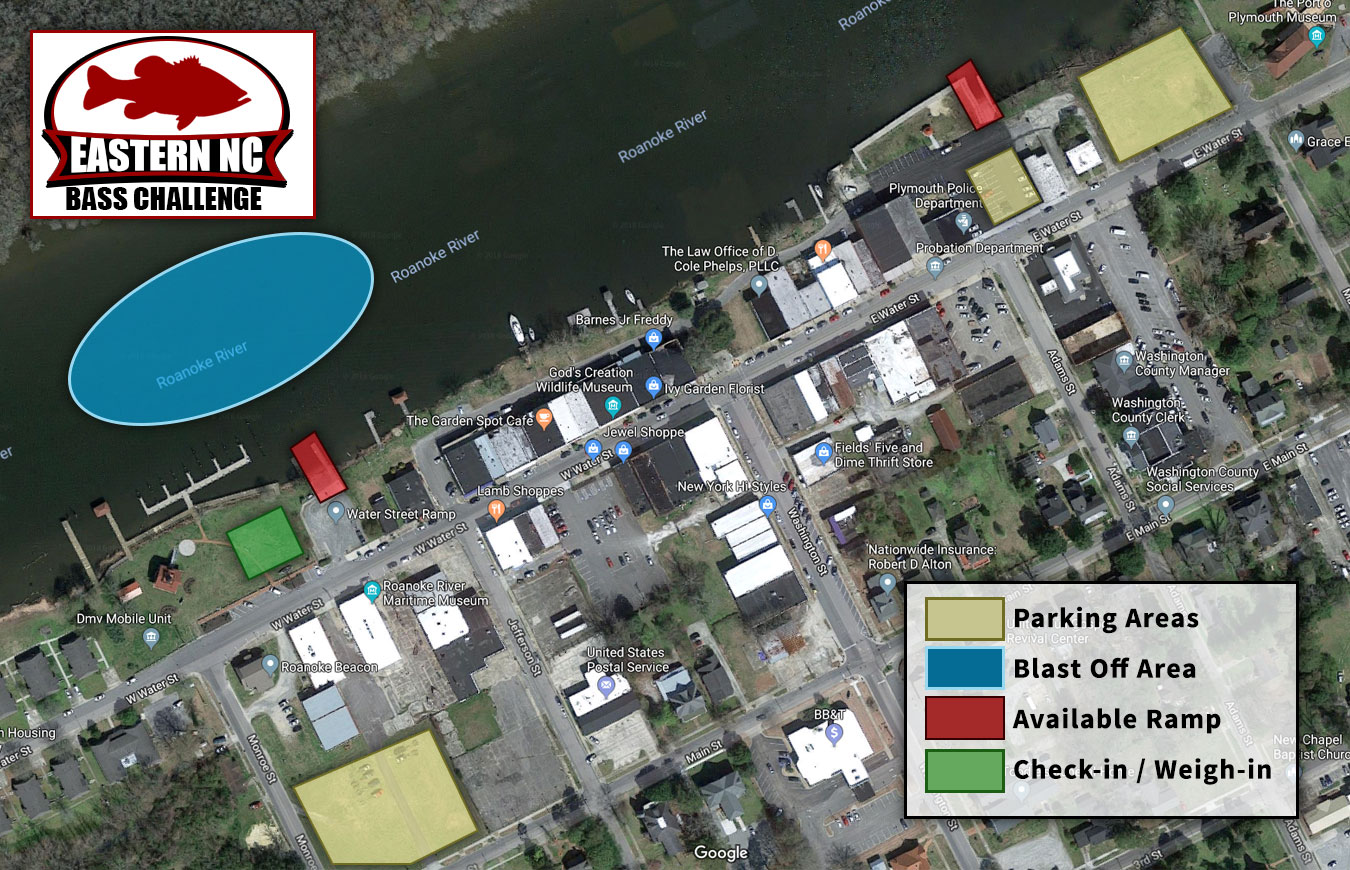 Prizes and Awards
We are guaranteeing a $2,000 1st place prize for this event (minimum 60 boats/teams entered). We will pay out 1 place for every 6 teams competing. We will also award our Greenville Toyota Big Fish prize of $400 to the team that weighs in the biggest bass of the tournament.
1st Place: $2,000 (min 60 boats) + 2 commemorative trophies
Greenville Toyota Big Fish Prize: $400
2022 Annual Awards and Prizes
Stoney Creek Outfitters 2022 Big Bass Prize: We will reward the team that weighs in the biggest bass of 2022 with a $1,000 cash prize.
Super 6 Point Championship: Anglers will compete all year long and are awarded points based on their finish. At the end of the year, the top 6 teams will be rewarded with cash prizes. 1st Place is $1,500! Click here for additional information and full rewards.
Incentives & Contingency Prizes
We're so happy to offer our anglers several incentives and contingency prizes this year. Our events in 2022 will be officially sanctioned events for the following contingencies:
Caymas Cash
TH-Marine Atlas Awards
Cashion Rods  – Cashion Cash
We also offer our anglers purchasing incentives from Boat EFX, Stoney Creek Outfitters, and Revital Outdoors where anglers may receive 20% off All CBD Products, use code "BassChallenge20". You can find out about each of these contingencies on our Angler Incentives page.
Anglers may also purchase tungsten at discounted rates from Swagger Tackle. You may use code "swag22" at checkout to receive 20% off your tungsten order. Be sure to include the name "Jeffrey Davis" in your order notes when checking out. Click here to visit the Swagger Tackles website.
Bass Challenge Partners
We flat out couldn't do what we do without the help and support from our partners. We've worked so hard over the years to build great partnerships with local companies and well-known brands with-in the fishing industry. I'd ask each of our anglers to please reach out to these companies and say "Thank you" for supporting the Bass Challenge.
EL Jones Development, LLC
Greenville Toyota
Stoney Creek Outfitters