The Eastern NC Bass Challenge will visit Washington, NC this Sunday for our 4th event of 2020. We're grateful for the folks at the Washington Department of Travel & Tourism for allowing us to host this months tournament – VisitWashingtonNC.com
Here are all of the details for this month's tournament.
---
Location & Times
Location: Tar/Pamlico River, Washington NC
Tournament Ramp: Havens Garden Boat Ramp
Address: 1053 E Main Street, Washington, NC 27889 (Map)
Date: July 26, 2020
Blast Off: Approximately 5:45 am (Safe Light)
Registration: 4:15 am – 5:30 am
Check-in: Flight #1 – 3:00 pm,  each additional flight adds 15 minutes
The tournament director will be on location at 4:15 am the morning of the tournament. Tournament check-in's and entry fee payments will be accepted starting at 4:15 am. Boat numbers will be assigned by order of entry fee received.
*** PLEASE READ: In order to maintain social distancing and ensure we are within the state-mandated guidelines, flights will be broken into boats of 20, and weigh-in times will be staggered every 15 minutes. During the weigh-in, only 1 person from each team may enter the weigh-in area to weigh-in their fish.
---
Tournament Format
Tournament Format: Team, 1 or 2 anglers per boat
Fish Limit: 5 Fish Limit – 2 may be between 12-14 inches
---
Fee's and Requirements
Entry Fee: $50 per team (Required) – Pay Online
Sidepot Fee: $25 per team (Optional)
Membership Fee: 1 time fee of $20 per angler (Required, One Time Fee) – Pay Online
Official Rules: View Official Rules
Angler Disclaimer: Download Angler Release Form – Each angler must sign this document before competing. They will be available the morning of the tournament.
---
Awards & Prizes
Big Fish Award: $300 cash Provided by Greenville Toyota
Cash Prizes: Cash prizes will be awarded based on final tournament standings Number of places paid is based on participation.
Team Points Championship: Points are awarded based on final tournament standings. Points Championship winner will win $1000 cash prize at the end of the season.

---
How To Sign Up
You may pay your entry fee's the morning of the tournament at the ramp. However, you may pay online now. By paying online now, you can generally skip the lines at the boat ramp and secure an earlier starting position. Additionally, you may use a credit card online to pay for your fee's. Only cash and checks are accepted at the ramp the morning of each tournament.
---
Blast Off Procedure
Boat numbers are assigned by order of registration. All boats are to remain on the ramp side of the bridge. As your boat number is called you may idle under the bridge and blast off.
---
Parking and Launching Information – PLEASE READ
The truck/trailer parking at the Havens Garden boat ramp is limited. However, there is plenty of side streets anglers can use to park their trailers and walk back to the tournament ramp. We have received permission from the City of Washington Department of Parks and Rec to use the ramp and to park on the side streets.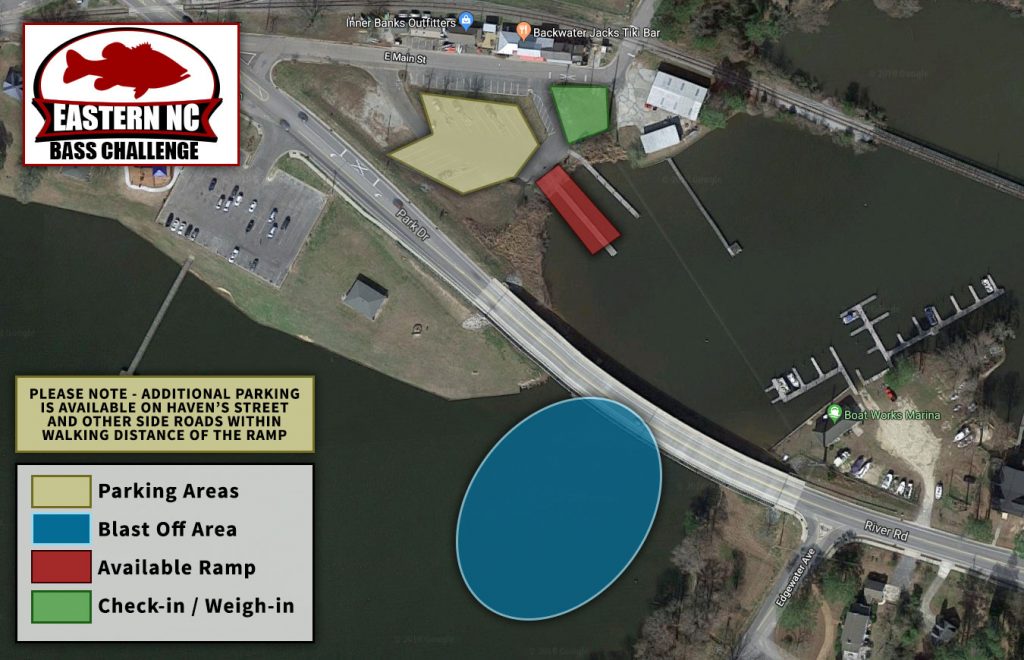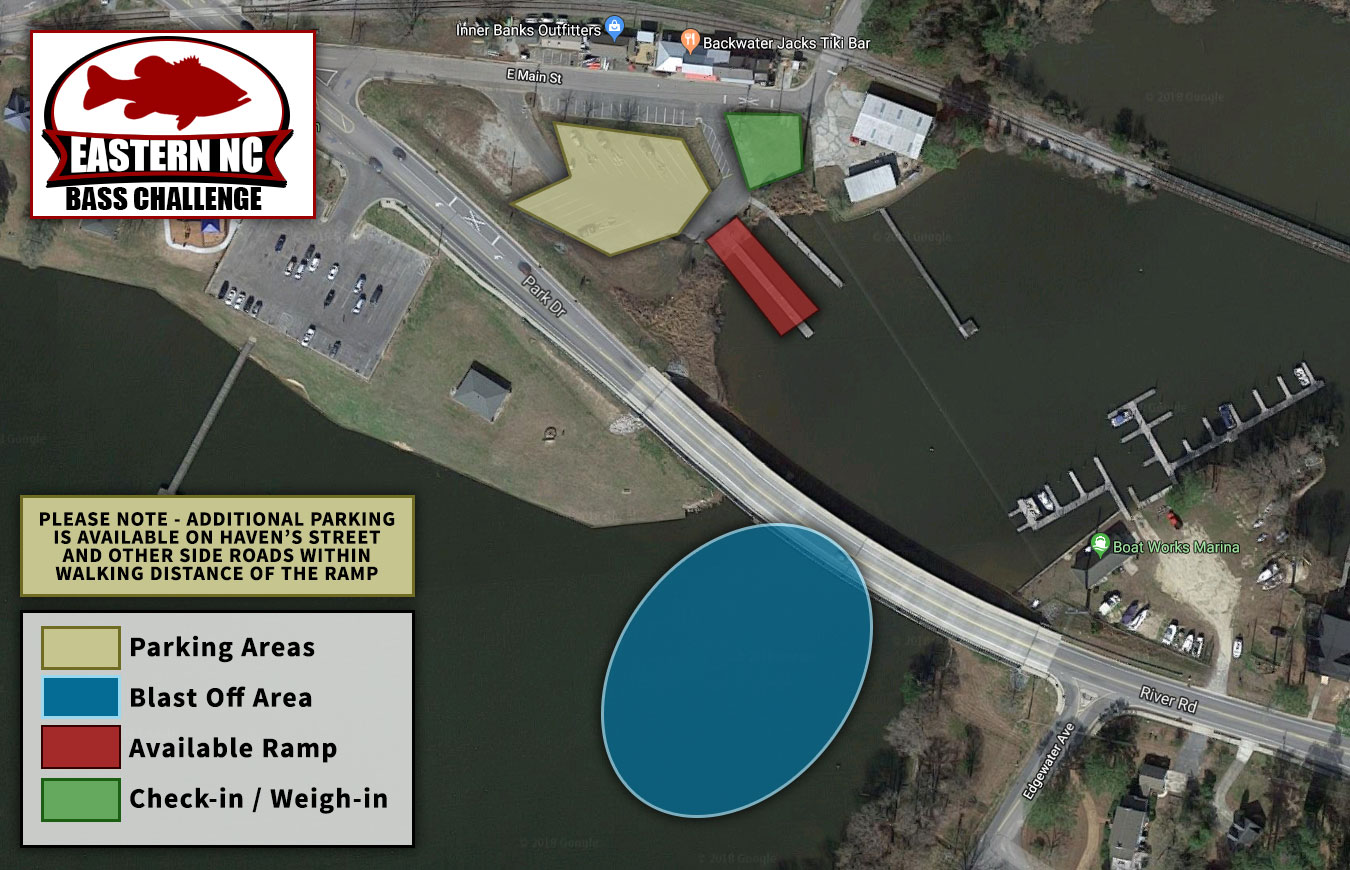 ---
Weigh-In
Weigh-in will begin at 1:30 pm. You are eligible to weigh-in early if you desire. Fair warning will be given before the scales are closed. It is the competing team's responsibility to ask for courtesy measurements on potential short fish and to request a big fish weight.
---
Contact Information
Tournament Director: Jeffrey Davis, Jr.
Contact Number: 252.661.5454
Please do not hesitate to call, text or email us any questions.