The 2019 Eastern NC Bass Challenge 2 Day Classic will take place this weekend on the Roanoke River! Our Classic tournament will feature additional prizes and awards for our 1st place finishers. Additional prizes include trophies, 2 customer Kistler Fishing Rods and an additional $500 paid back to our 1st Place winners in addition to our normal payback. Here are all of the details for our final tournament of 2019.
---
Classic Tournament Location & Times
Location: Roanoke River, Plymouth NC
Address: 205 W Water St Plymouth, NC 27962 (Map)
Date: August 31-September 1, 2019 (2 Days)
Off Limits: There are no off-limit areas or times in which you can not fish.
Blast Off: Approximately 6:20 am
Registration: 4:30 am – 6:00 am
Check-in: Flight #1 – 3:30 pm Flight #2 – 3:45 pm
Weigh-in: You may trailer your boat before weighing in. You may use your own weigh-in bags.
The tournament director will be on location at 4:30 am the morning of the tournament. Tournament check-in's and entry fee payments will be accepted starting at 4:45 am. Boat numbers will be assigned by order of entry fee received. Your boat number will be the same for both days of the event.
In the event there is more than 40 teams competing in the tournament, there will be 2 flights in the tournament. The second flight will be allowed to check-in 15 minutes after the first flight is due in. There will be no delay between flights.
---
Fee's and Requirements
Entry Fee: $50 per team (Required, Pay Online)
Sidepot Fee: $20 per team (Optional, Pay Online)
Official Rules: View Official Rules
---
Awards & Prizes
In order to maximize payouts to our top anglers, cash rewards will be paid back to the top 10% of the field for our Classic Tournament.
Big Fish Award: $350 cash Provided by Greenville Toyota
Cash Prizes: Cash prizes will be awarded based on final tournament standings. Total cash rewards will be based on participation.
Additional Awards: Our Classic Fund includes $500 in extra cash being paid out to 1st place. The first place winners will also receive 2 Kistler Rods and 2 trophies.

Eligibility
In order to be eligible to fish this event you must have participated in 3 regular season tournaments or 2 tournaments and paid for a 3rd. If you are unsure if you're eligible for this event please contact us.
Sponsors
Our Classic is proudly sponsored by Kistler Custom Fishing Rods, EL Jones Development LLC and Greenville Toyota! Please reach out to these companies and tell them "THANK YOU" for supporting our trail and the anglers that have made it an incredible success this year.
How To Sign Up
You may pay your entry fee's the morning of the tournament at the ramp. However, you may pay online now. By paying online now, you can generally skip the lines at the boat ramp and secure an earlier starting position. Additionally, you may use a credit card online to pay for your fee's. Only cash and checks are accepted at the ramp the morning of each tournament.
---
Weigh-In
Weigh-in will begin at 2:00 pm. You are eligible to weigh-in early if you desire. Weigh-in will last until 4:00 pm. If you need additional time to weigh-in your fish you are required to notify the tournament director before this time elapses. Fair warning will be given before the scales are closed.
It is the competing teams responsibility to ask for courtesy measurements on potential short fish and to request a big fish weight.
---
Tournament Pre-Registration List
[table "5" not found /]
---
Parking and Launching Information
The town of Plymouth offers 2 boat ramps for anglers on Water Street. You may use either ramp to put your boat in the water. However, you will need to check in with the Tournament Director before blast off.
If you're using the ramp farthest from the blast off area, you will be required to idle back down towards the light house ramp, which is where registration and weigh-in will occur. There is plenty of parking by each ramp and parking is NOT expected to be an issue.
---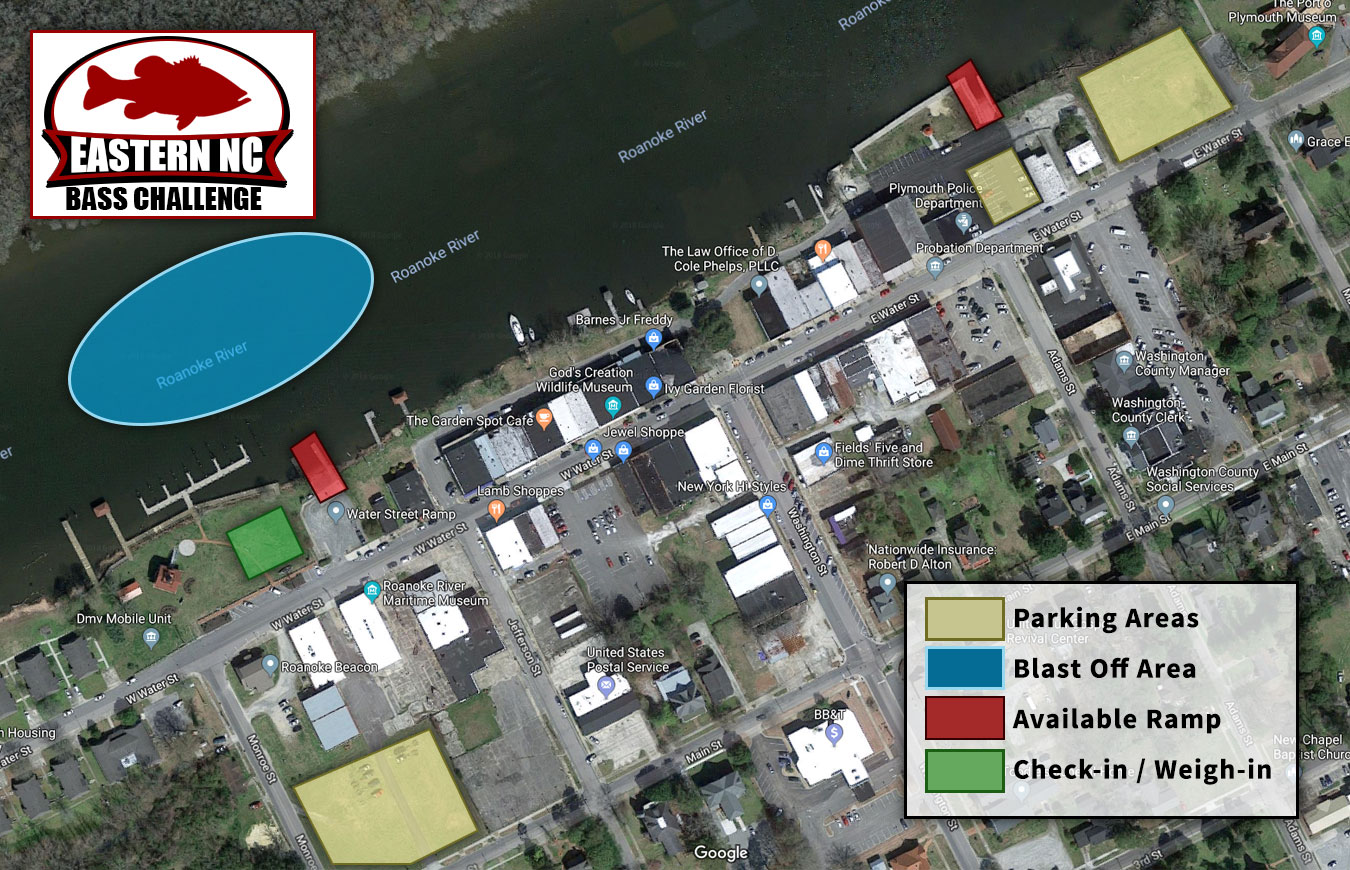 ---
Contact Information
Tournament Director: Jeffrey Davis, Jr.
Contact Number: 252.661.5454
Please do not hesitate to call, text or email us any questions.